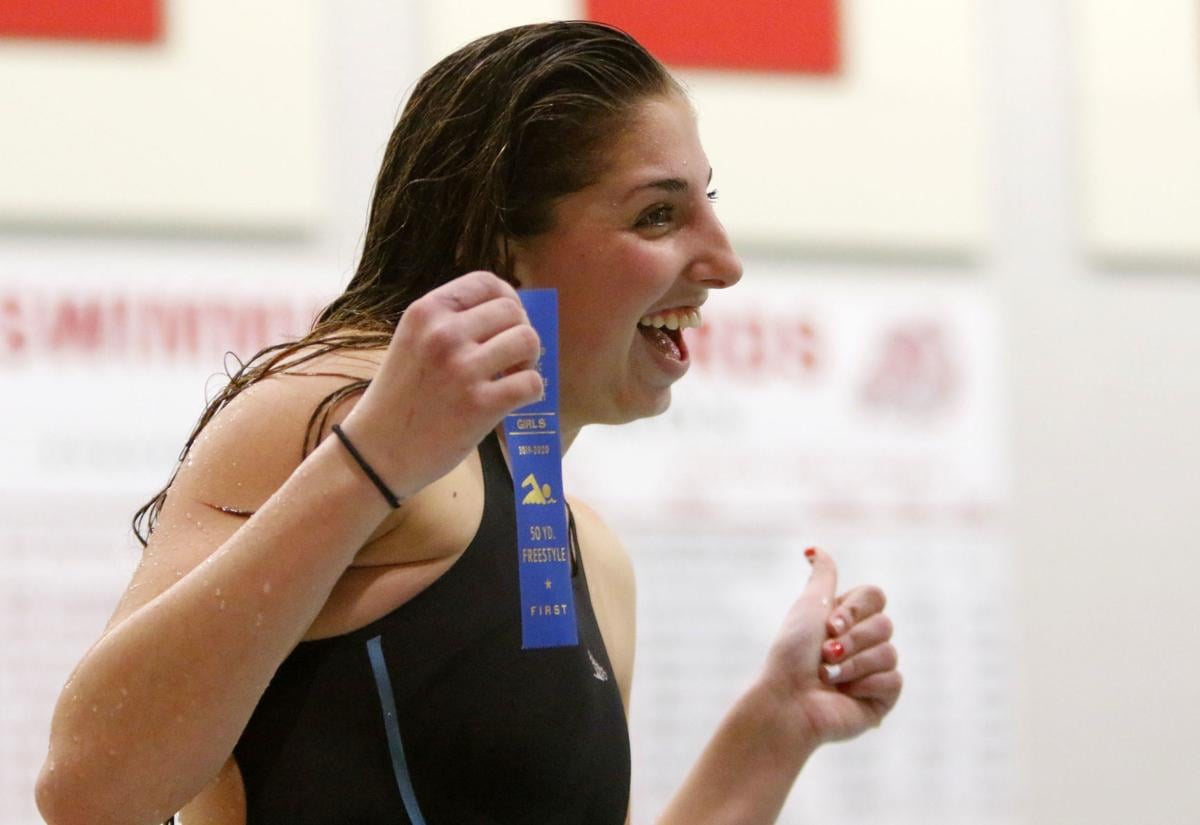 Jordan Artim was looking forward to a relaxing weekend at home by herself last November.
What the Crown Point senior swimmer got instead was a tearful phone call to her mother followed by a trip to the emergency room. More than two months after a freak injury, Artim is back in the water and can now laugh about a morning accident that could have been much worse.
"My parents went out of town and they weren't even gone 24 hours when I had to call them," Artim said. "I slammed my hand in my car door on the way to school. It was the first time they ever left me home alone. They swear they'll never do it again."
The freak accident left Artim with a broken finger, nine stitches and a host of questions about her future. The South Carolina commit was sure that her swim season was over, especially as she looked down and saw what appeared to be exposed bone.
"I started crying immediately," Artim said. "I knew for sure that my season was over. I wasn't even upset about my hand, just what it meant for me. Then the doctor told me that it would only be four weeks."
Artim ended up being dry docked for nearly six weeks as she exercised caution for fear of future infection. She started with kicking exercises and was back in the water around Christmas, much to the delight of Crown Point coach Byron Angerman.
"She has learned to overcome adversity this season," Angerman said. "Every year she has gotten a little more confident in her abilities to achieve. You can see it in her growth over time. She knows what it takes to success and what comes from that is a lot of hard work that she puts in."
Artim is the third in her family to earn a Division I swimming scholarship after former Crown Point stars Mackenzie (Purdue) and Kelsi (Wisconsin) before her. Artim consulted with her coaches at South Carolina after the injury and they came up with a plan for times throughout the season. Artim has already exceeded those marks.
Artim registered wins at the Highland Invite earlier this month in the 50-yard freestyle and the 100 breaststroke and then she repeated those victories at last Saturday's Duneland Athletic Conference Meet. It was the performance on Saturday that has allowed Artim to recalibrate her expectations for this season in the wake of her injury.
"I'm the kind of person that usually prepares for the worst so that I'm not disappointed when it happens," Artim said. "In the past couple DAC meets, I usually end up crying after because I didn't perform well. This year, I was smiling. I didn't think those times at Highland were real, that maybe I was tapered or something. After DAC, I was reassured that I am actually doing these times."
Artim is still working her way back to compete in the 200 individual medley and is eager to return to state where she placed 16th in the 50 free and 27th in the 100 breast. Crown Point's 200 freestyle relay took 25th.
"The DAC meet was a huge deal for me," Artim said. "Something must be going right. I thought my season was going to be over and now I've got something to show for it. The injury didn't set me back."
Munster duo honored
Munster seniors Kyle Adams and Holden Raffin continue to earn impressive honors outside of their achievements in Northwest Indiana. With the two already slatted to swim at the Olympic Trials this summer in Omaha, the pair received some global honors on Wednesday morning.
USA Swimming announced its 18 & Under World 100 list on Wednesday, listing the top 100 swimmers in a variety of events. Adams, who will swim at Iowa this fall, is listed 37th in the 100 breast with a time of 1 minutes, 2.68 seconds that he recorded at the NCSA Summer Swimming Championship in Indianapolis last August.
Raffin is tied with Korea's Sughyun Yang at 59th in the 100 back with a time of 56.28. The USC commit is also ranked 79th in the 200 back with a time of 2:03.52. Raffin registered both of these times over two days at the same meet.
"The 18 & Under World 100 List is a reflection of the strength of USA Swimming's future," USA Swimming National Junior Team Director Mitch Dalton said in a release on Wednesday. "The World 100 offers an apples-to-apples comparison of how our developmental-aged athletes compare to their international peers."