MUNSTER — Michael Fesko watched Munster's run to the state quarterfinals a year ago from the sidelines.
He spent the season as the No. 1 singles player on the junior varsity roster but wanted to contribute to the varsity squad as a sophomore. So, he got to work.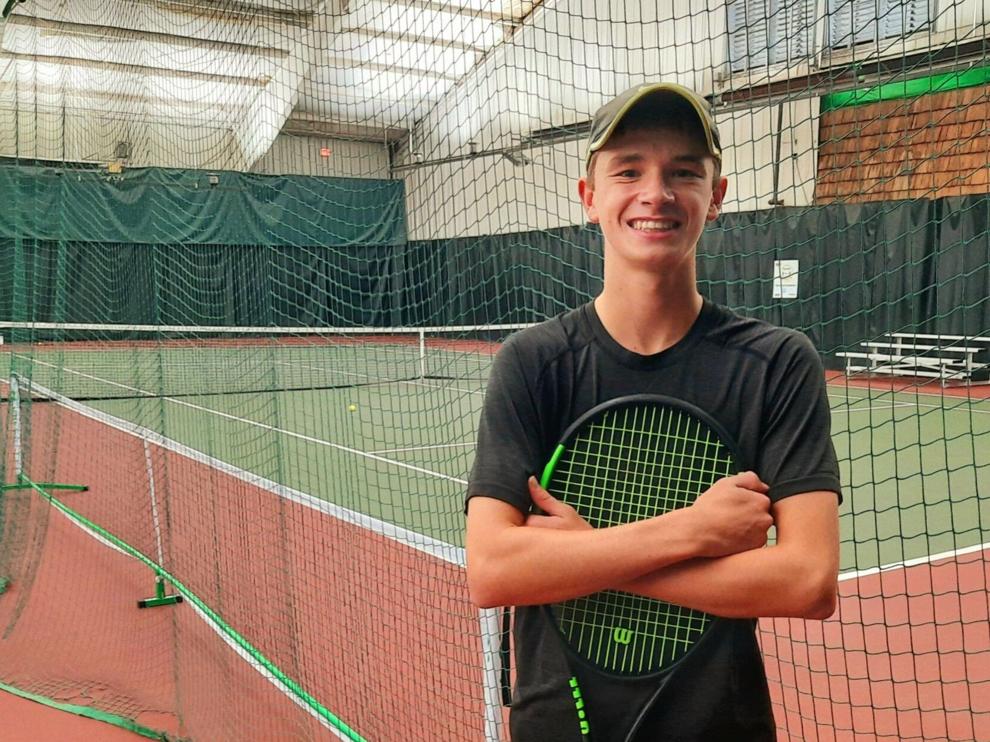 "I really wanted to be out there so I worked really hard. I was a basically playing every single day this summer until conditioning (started). I played about four times a week during spring, a couple times a week during winter," Fesko said. "I just really wanted to be out there."
That effort paid off for the Mustangs. Fesko's been a reliable No. 3 singles player all season, to the tune of a 23-2 record. Both of his losses came to highly ranked players.
"He has improved immensely from where he was last year to where he is this year, just stroke-wise and confidence-wise. The confidence is probably the biggest thing because now he has confidence in his game," coach Patrick Spohr said.
Spohr said Fesko arrived as a player who'd clearly taken a lot of lessons. He'd hit everything back to the middle. Munster coaches have worked with him to keep balls out of what they call that "red zone" and make his opponent move.
"He's learned to embrace the grind from the beginning of the season," Spohr said. "He's able to just wear opponents down. He's just a very, very strong No. 3."
In the regional final last week, Fesko won his first set against Bremen's Mariano Deleon 6-0, went up 3-0 in the second set before finding himself down 5-6. He rallied to come back to win 7-6, including an 11-9 tiebreaker.
"I just had to keep fighting," Fesko said. "I had to fight really hard. I had to dig really deep. It's probably the longest match I've ever played."
Spohr believes Fesko's biggest strength may be his fitness. He thinks Fesko could probably be a successful cross country runner if he decided to be. That stamina came into play during the Bremen match. It's been part of a lot of sets he's won this season that ended with scores like 6-4 or 6-3.
"I always tell myself, 'I can outlast this guy,'" Fesko said. "I just fight for every ball. It's a lot of mindset. I try not to tell myself I'm tired. If you tell yourself you're tired, you're going to be tired. I tell myself to keep fighting."
His point may be especially important Friday.
Munster will play Columbus North in the state quarterfinals at Carmel. The Bull Dogs (17-1) are ranked No. 2 in the Indiana High School Tennis Coaches Association poll. Their only loss is to No. 1 Carmel. Munster is No. 9.
Columbus North's Nathan and Hank Lin are the top two singles players. The Bull Dogs beat Floyd Central 4-1 at semistate to advance. The one loss came at No. 1 doubles.
Spohr feels like the Mustangs may have an advantage in the doubles matches but will need to steal a point in singles to move on.
"Anytime you get to this position, you're going to be matched up against better people than you played the round before," Spohr said. "We've played the top teams in the state, with our schedule. That fear component shouldn't factor in. We are who we are and we're going to go out there and see how we match up."
Beating Columbus North would likely mean playing top-ranked Carmel Saturday in the state semifinals.
"Last year, we had a tough loss when I was watching from the sidelines in the final four," Fesko said. "I really want to get back there but I'm just focusing on this match. Hopefully it ends in a win."
Individual state series
Lake Central's No. 1 singles player, David Spriggs, as well as doubles teams from Lowell and LaPorte are still alive in the individual tournament.
The Slicers host the regional Saturday. William Wolf and Quentin Spears will play the Concord Sectional winners. Lowell's Ronald Gryzczewski and Aiden Harder play Matt Manzuk and Bennett Christ from Plymouth.
The winners of those matches will meet in the LaPorte Regional final with a state berth on the line.
Spriggs will play Constantino Oberto from Culver Academies. Ben Guerrero of South Bend Adams and East Noble's Vittorio Bona are the other singles semifinal.