The Times' Athletes of the Year for the 2017-18 school year, as selected by the sports staff.
Morgan Chacon is The Times Lake County Female Athlete of the Year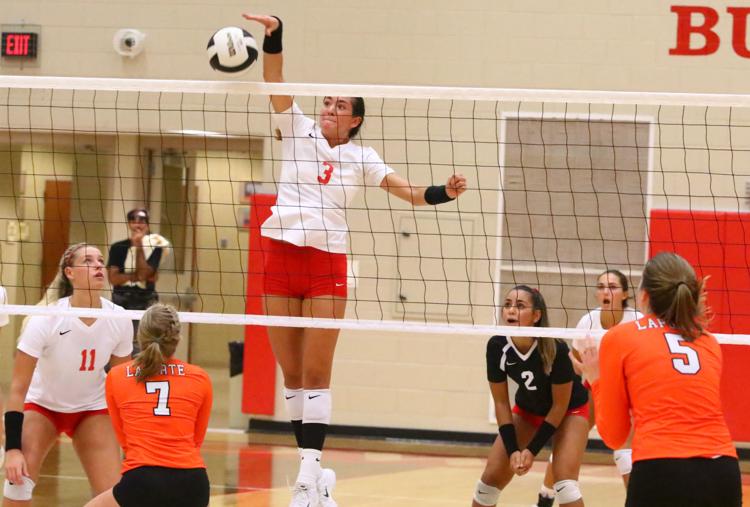 Morgan Chacon
Surrounded by a very good team, Chacon led the Crown Point volleyball program to back-to-back Class 4A state championship games. In the 2017 championship against Avon, she broke her leg in the first game. Despite playing in just one game, she tied for the Bulldogs lead with six kills. Chacon, an outside hitter, originally committed to play at Arizona State, but changed her mind and went to Florida State after graduating from Crown Point in December. Chacon won the The Times Volleyball Player of the Year the last two seasons. She fished her career with 1,452 career kills, 968 digs, 202 blocks and 159 service aces. 
By the numbers: 480 kills, 41 aces, 75 blocks, 284 digs
Alison Duncan, Crown Point coach: "A lot of coaches, it was a reoccurring theme from almost everyone we played, they said they couldn't stop her. That was Northwest Indiana teams, Indianapolis teams and even the team we saw from Tennessee. You can't stop her."
Alex Equihua, Crown Point teammate, after Chacon was injured in the state final: "She is such a big part of this team. I have no words. It kills me that she wasn't out there with us."
TR Harlan, Michigan City coach: "Morgan is as good a player as I've coached against in my 20-plus years. There isn't anything on the court she couldn't do. She dominated Northwest Indiana the last two years."
Crown Point def. Yorktown 26-24, 16-25, 29-27, 25-19, Oct. 28: Chacon had 27 kills, 12 digs and seven blocks in the semistate win and was named MaxPreps/AVCA Indiana Player of the Week.
Crown Point def. Michigan City 23-25, 25-11, 22-25, 25-20, 15-10, Oct. 21: In leading the Bulldogs to their third straight regional championship, Chacon had 23 kills, three aces and two blocks.
Crown Point def. Michigan City 25-22, 25-27, 25-16, 25-16, Oct. 5: Chacon had 18 kills and 23 digs to lead the Bulldogs to their second straight undefeated Duneland Athletic Conference championship.
Our take: Since class sports began in 1997-98, Northwest Indiana hasn't had a team win a state championship in Class 4A and Crown Point is the lone Region team to get to a title game. The Bulldogs have done it twice, with Chacon leading the way both times. Her numbers, and the words of area coaches, back up her dominance.
Jordan Jusevitch is The Times Lake County Male Athlete of the Year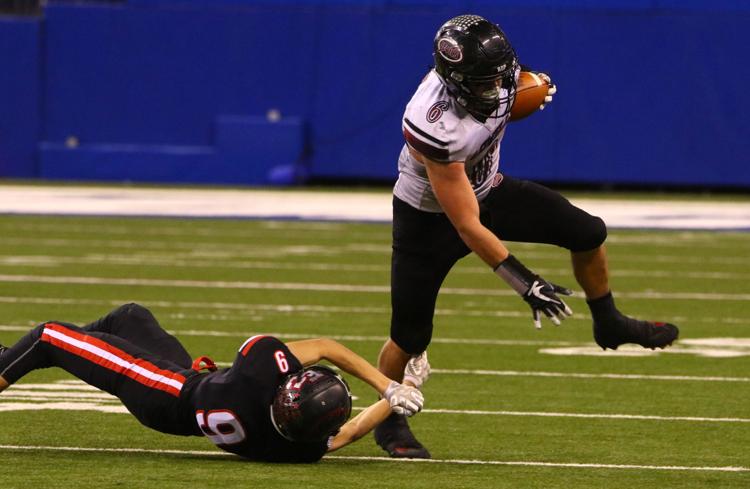 Jordan Jusevitch
Jusevitch led the Red Devils to the 2017 Class 4A state championship game. He was a Mr. Football finalist in the fall as well. Jusevitch, a safety, played in 53 varsity games in his career, totaling 416 tackles and 18 interceptions. As a part-time offensive player, Jusevitch rushed for 937 yards and 18 touchdowns and he had 906 receiving yards with eight more scores in his career. He won The Times Defensive Player of the Year award twice. He was invited to play in the Blue-Gray All-American game at the Tampa Bay Buccaneers' Raymond James Stadium after his senior season. He is now at Indiana prepping for his first season of Big Ten football. 
By the numbers: 109 tackles, 7 TFL, 7 INT; 412 rushing yards, 9 TDs, 503 receiving yards, 2 TDs
Keith Kilmer, Lowell football coach, after defeating Fort Wayne Dwenger in semistate: "He's a gamer, the kid's awesome. He raises everyone up around him. A kid like that, you're just going to ride that horse as long as you can and luckily we get to ride it one more week."
Sean Kinsey, Morton football coach: "(Jusevitch) does things you just can't coach. His football instincts are off the charts. He can win games almost by himself."
Kevin Enright, Crown Point football coach: "(Jusevitch) is a football player. You don't have to say anything else."
Lowell 25, New Prairie 20, Nov. 10: New Prairie's rushing attack was held to 161 yards on 42 carries. Jusevitch scored on a 7-yard run in the third quarter and then scored from seven out in the fourth quarter on fourth down. New Prairie tried for an onside kick, but Jusevitch recovered the ball, icing the regional championship.
Lowell 21, Fort Wayne Dwenger 7, Nov. 17: Lowell won this Class 4A semistate game on the broad shoulders of Jusevitch. "He put everyone on his back," Kilmer said. Jusevitch carried the ball 14 times for 139 yards and all three touchdowns. He also sealed the win with a late interception that started the celebration.
East Central 14, Lowell 7, Nov. 25: In a tough loss to East Central in the state final at Lucas Oil Stadium, Jusevitch showed the state what he's capable of doing. He rushed for 86 yards with one touchdown, caught five passes for 85 yards and had eight tackles. "I was exhausted," he said. "We were all unhappy. We felt like we let a lot of people down."
Our take: Jusevitch dominated the sport he played like few others in recent memory. He and his teammates won four straight sectionals and in the biggest games his name was usually in the headlines.
109 tackles, 7 TFL, 7 INT; 412 rushing yards, 9 TDs, 402 receiving yards, 2 TDs.
Hannah Noveroske is The Times Porter/LaPorte Counties Female Athlete of the Year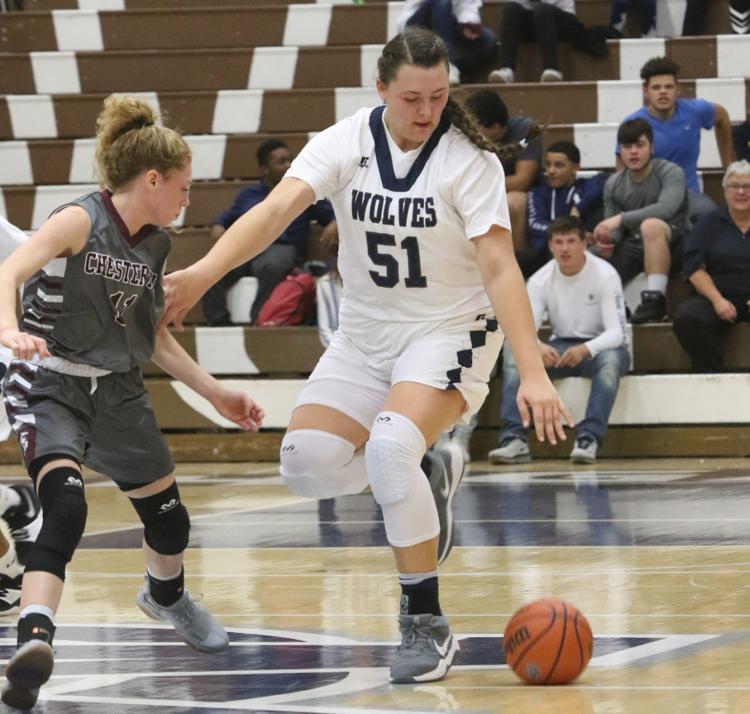 Hannah Noveroske
The 6-foot-4 Noveroske earned The Times of Northwest Indiana Athlete of the Year honors for Porter/LaPorte Counties after a year in which she was an overpowering force, patrolling the net and the paint. Division I colleges in both volleyball basketball recruited Noveroske. The Xavier basketball program came out the winner.
By the numbers: 20.6 points, 15.7 rebounds and 6.9 blocks per game; 431 kills, 47.4 hitting percentage, 117 solo blocks.
Mike Megyese, Michigan City girls basketball coach: "She's the most dangerous player in the area. She's big, she's strong and she finishes."
Joe Huppenthal, Lake Central girls basketball coach: "If you play a half-court game, they're going to kill you; (Noveroske) is just too good."
Janicia Anderson, Michigan City girls basketball junior: "Most (defenses) are going to be on her, so it allows everybody an opportunity. There's always somebody open."
Michigan City def. New Prairie 25-20, 16-25, 16-25, 25-12, 15-8, Aug. 17: Thirty kills. Thirty. Noveroske dropped a career-high 30 hammers on the Cougars in addition to six solo blocks in rallying the Wolves to a five-set victory.
Michigan City 66, West Side 64, Jan. 24: Despite sitting the better part of a quarter due to foul trouble, Noveroske poured in 29 points to go with 14 rebounds and eight blocks in the Wolves' last-second win.
Michigan City def. Penn 24-26, 25-19, 25-23, 25-15, Oct. 21: Noveroske had bigger statistical matches, but none came in a more important situation than the regional semifinals, where she posted 20 kills and six solo blocks in a signature four-game victory over the Kingsmen.
Our take: Nobody was as dominant in two sports as Noveroske, the focal point of every opponent's game plan. Size is Noveroske's obvious strength, but the development in her skill sets and her athleticism have taken her to the head of her class.
Braden Corzan is The Times Porter/LaPorte Counties Male Athlete of the Year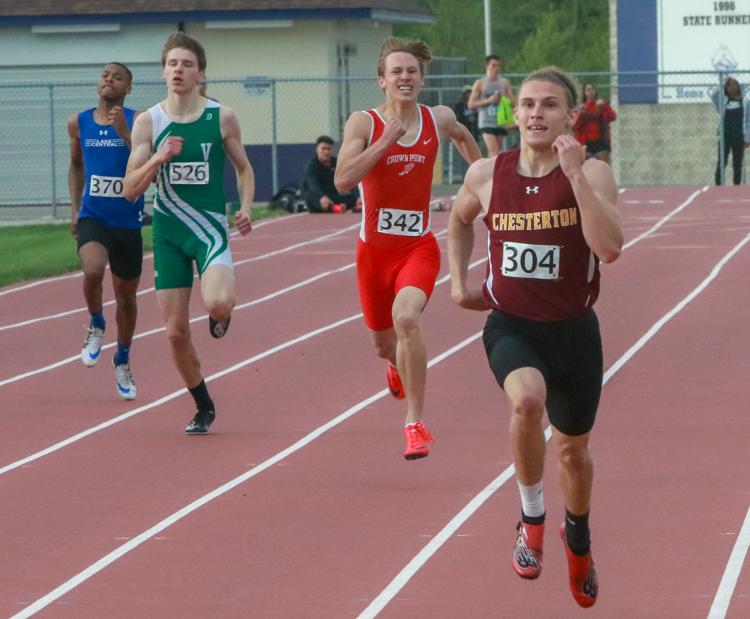 Braden Corzan
An Indiana State recruit, Corzan was the fastest sprinter in the Region and the fastest in the state at 400 meters, graduating as the most-decorated sprinter in Chesterton history and its record-holder in the 100 and 400. His speed was also a threat on the football field, where he specialized in blocking kicks.
By the numbers: State champion, 400-meter dash (47.41 seconds), Duneland Athletic Conference and Portage Sectional champion, 100, 200, 400; Crown Point Regional champion, 100, 400.
Bryan Nallenweg, Chesterton track coach: "He's such an unbelievable athlete and competitor. Obviously, he's really, really good, but for a coach, it's the unbelievable work ethic, how dedicated he is, the way he warms up, the way he practices blocks, handoffs."
Nick Haas, Portage track coach: "The first thing that comes to mind is his stride. He is so fast off the ground, he covers a lot of ground in each step for not being a very big guy. When I teach form I want my runners to look like him. He is so versatile. He could probably have been their best option in 10 or 11 events."
Angela Martin, Indiana State track coach: "Braden is an incredible competitor and a very smooth racer. His range as a long sprinter is excellent. He is very goal-oriented and that will make him a great collegiate runner."
Duneland Athletic Conference Championship, May 9: Corzan won the 100, 200 and 400 but his most impressive performance may have come in the race he didn't win. He took the baton for the anchor leg of the 1,600 relay a distant fifth but rather than cruising and settling in his sixth race of the meet, he emptied the tank, picking off two runners and nearly a third to bring Chesterton up to third place.
Portage Sectional, May 16: The second of Corzan's hat tricks — he swept his three individual events, breaking the meet standard in the 100 and the 400 in the process.
State Finals, June 7: All the accomplishments would've been an afterthought without the end goal — standing on the top of the awards podium in Bloomington. Corzan did it in dominant fashion, winning the 400 by over a second.
Our take: Great athletes make the difficult look easy. So it was with Corzan, whose effortlessness in running belied the exhaustion he felt. The talent is unquestionable but the results don't happen without the physical and mental capacity to push through the uncomfortable.