LOWELL — Crown Point, Merrillville and Lake Central were within 8.5 points of one another with all but the shot put scored on Tuesday at the Lowell Sectional.
Lake Central ended up getting first and third in the shot to secure the victory with 128 points to 124.5 for C.P. and 123.5 for Merrillville.
"Those were the points that we just kept waiting to come in," L.C. coach Ron Fredrick said. 
L.C.'s Makeda Ellis won with a toss of 43-feet, 2.5 inches, while teammate Allie Mularski took third with a 36-3.5 effort to give the team the win.*
"I felt like I needed to get it more for my team than myself, because on the track we didn't do as well as we were supposed to so I know my 10 points from getting first would secure it," Ellis said.
Mularski's six points for third put the team over the top for the sectional title.
"I just knew I had to do it for my team," she said. "I was in fourth, but I pushed it through and I got third. It was for my team."
The only other wins for L.C. were Maddie Rigg in the pole vault and LaTreasure Johnson in the long jump. Melissa Fritz took second in the 200-meter run and Breanne Mitchell was third in the 100. Mularski placed second in the discus and Sarah Schoonmaker was third.*
L.C. used its depth to pick up points up and down the lineup.
"The distance team came through, the sprint team came through, our field group came through," Fredrick said. "We got points in a lot of places we weren't supposed to."
After Lake Central's streak of 25 straight sectional championships was snapped in 2017 by Crown Point, L.C. has won two in a row.
"We're building again, that's exactly right," Fredrick said.
C.P. Russin has big night
Crown Point junior Maddie Russin nearly willed her team to victory, winning the 400 and 800 as well as running a leg on the 4x800 relay that placed second, and she ran the anchor leg on the winning  4x400 relay.
"It was a long meet, but I tried to execute race strategy and just chill during some of the races so I'd have more to give in the 4x4," she said. "I think it worked out pretty well."
After the 4x400 relay, C.P. led with 121.5 points to Merrillville's 118.5 and L.C. had 112.
"It was really hot, too" Russin said. "This is like the hottest meet we've had so far."
Russin broke her own sectional record in the 800 with a time of 2 minutes, 16.22 seconds. She qualified in all four events for Tuesday's Portage Regional, as the top three finishers in each event advance to regional.
James legs out win in 1,600
Lowell's Analise James held off a strong field to win the 1,600 in 5:08.88, less than 4 seconds ahead of C.P's Jaelyn Burgos.
"I've been a little stressed about my kick this past season just because it hasn't been a given as other years," James said. "That was definitely a fast finish. I knew it was going to come down to a sprint to decide. I've raced against Jaelyn before. I think she's great and I knew she'd be right there. Just staying strong all the way to the finish was probably the biggest key there."
Lowell placed fourth as a team, and James finished third in the 800 behind Russin and her sister, Karina James, who placed second.
Lowell won the 4x800 relay with the James' sisters, Jordyn Boyer and Megan Kaczur.
"All around, everyone ran season PR's," Analise James said. "We got the school record actually."
Riggs breaks PV record
Lake Central's Maddie Rigg cleared 11-7 in the pole vault on her third try to break the sectional record of 11-6 set by L.C.'s Katie Brown in 2013. Rigg cleared 12-0 on her first try to up the record six more inches.
"Oh my gosh, I was so excited," Rigg said. "I was not expecting that at all. It was just an amazing feeling overall."
Rigg got hugs from her vault coach Dan McCabe and her teammates. She then took three attempts at 12-5 to try to break her personal record of 12-4 but couldn't quite clear the height.
"She broke the sectional record which is good for her," McCabe said.
After Rigg missed on her first two jumps at 11-7, she did a stretching exercise and took a short breather and then cleared the height with some room to spare.
"After making that, my confidence is back and it just feels great to be the record-holder for sectional," she said.
"I'm so happy for her," said McCabe, who's been coaching L.C. vaulters for 15 years. "... She has a focus like no one I've ever had. She knows how to zero in."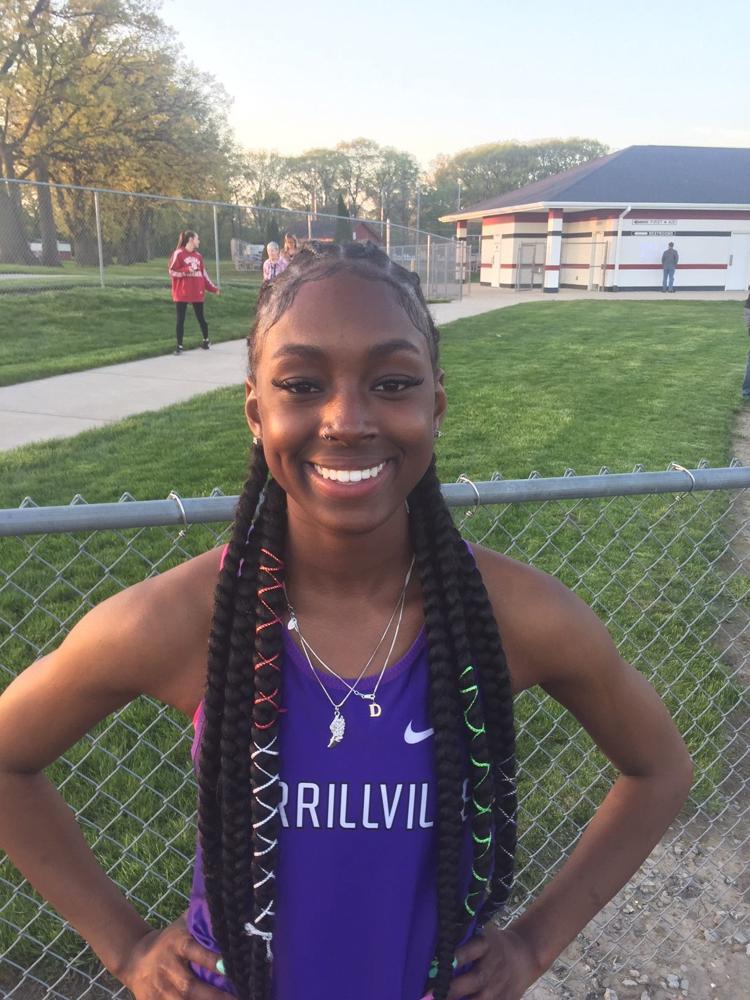 Sprinters rule
Merrillville's Caiya Davis helped the Pirates to third, winning the 200 and taking second in the 100. She also ran on the winning 4x100 relay and the 4x400 relay that placed third.
"I try to keep focus on my lane and push it through the line," said Davis after winning the 200.
* Editor's note: This story has been corrected from an earlier version.