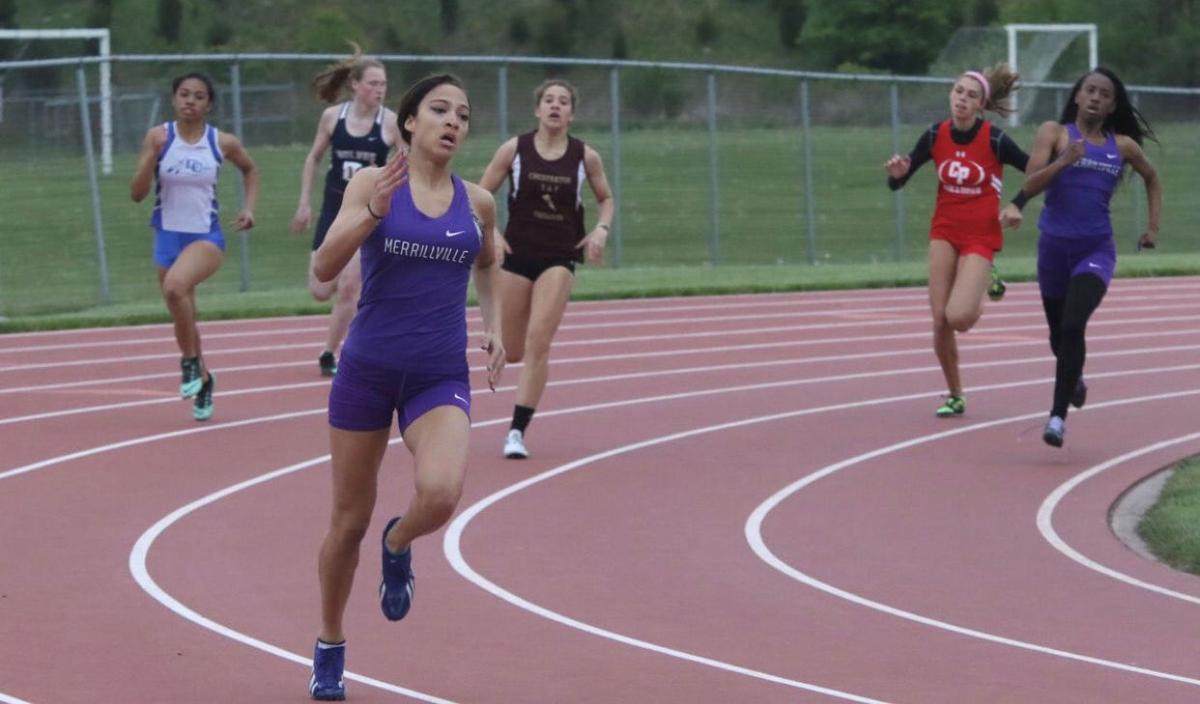 Alysa Coleman is the exception to the rule.
Merrillville's junior sprinter considers herself an old soul. She group up watching "I Dream of Jeannie" and "Green Acres" when most of her friends were sitting down to cartoons. And she "doesn't really like cellular devices."
"I just grew up without it. I didn't get a phone until seventh grade when everybody else had one in like fifth grade," Coleman said. "When I was a kid, I liked to go outside and play like a kid should."
Coleman separates herself from her peers on the track, too.
"She has this innate speed and she has the competitive drive," Pirates coach Kelly Kratz said. "When it comes down to it, she's very focused, a very fierce competitor."
Her times are exceptional, too. She's twice run the 200-meter dash in 25.55 seconds. Her best 400 dash time is 57.54 in the open and 57.83 in her leg of the 1,600-meter relay.
The 400 mark broke the Duneland Athletic Conference record last week.
"(Track helps) whatever I do in my life and in the future, whether I run in college or not," Coleman said. "But really, anyway it's going to help me in other ways, characteristic-wise. It makes me a better leader and it gives me a reason to do good in school. I just helps everything."
Running wasn't Coleman's first love. She wanted to play football in elementary school, she said, but her parents wouldn't let her. So, she joined every other sport she could.
Track was the one where she just kept winning.
"I was very small and everyone said 'Aw, you're too small to do boy's sports,'" she said. "I thought I was good (at track), but when I got to high school I started to do way bigger things than I ever thought I could."
Coleman spent her first two years at Calumet before her family moved to the Merrillville school district. She was immediately taken in by her team and classmates, she said, and she was fast enough to contribute to the team right away, either.
"They were just really accepting of me right away. Nobody knew who I was or that I was good," Coleman said. "They just saw me as a new teammate and welcomed me."
The Pirates coaches welcomed her, too.
"I wasn't really as confident before," she said. "I came here and they really worked on me going into meets confident and believing in myself and thinking I could do it. That helps a lot."
She ran a 1:06 400 dash in last year's sectional. Kratz said the kind of growth she's shown this year is exciting. Coleman attributes it to weight training, which she never did at Calumet.
"I want the best for her because she works so hard. I don't think we've tapped all of the potential, yet," Kratz said. "The girl can come out and run a couple sub-26 200s. She broke the DAC record her first time running in that conference.
"If everything goes well, I'm hoping that she'll have a good shining moment in Bloomington."