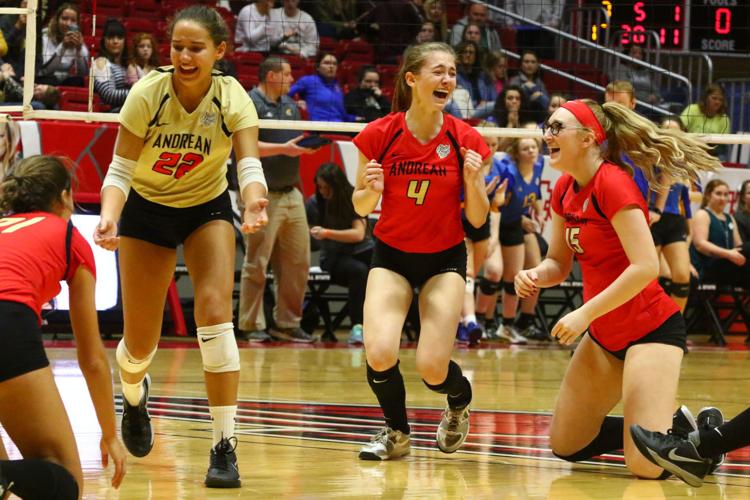 MUNCIE — Staring at their first late-game deficit of the match, the Andrean 59ers took a timeout to regroup.
Down 24-23, coach Grant Bell told his team to play without fear.
"He told us not to be afraid to win," senior libero Christina Dal Santo said.
The Niners scored the next three points and won their first volleyball state title 25-20, 25-18, 26-24 over Christian Academy in Andrean's first season in Class 2A.
"This team connected so easily," senior Jenna Dal Santo said. "We can laugh together and play together so well."
The 59ers hoped to find a game plan that could neutralize Christian Academy senior Alli Stumler, who had 20 kills. At 6-foot-1, she has a hard driving kill and is committed to the University of Kentucky.
The Warriors had played in the state title game each of Stumler's four years at Christian Academy, winning in 2015 in Class A. Like the Niners, this was the Warriors' first season in Class 2A.
Andrean's versatility took advantage of Stumler's time in the back row and used big blocks in the front row to try to slow her down. The Niners were credited with 20 block assists, setting a Class 2A state record with 10 blocks in a three-set match. Serena Wagner, Lauren Bartley and Grace O'Brien notched five block assists each.
"You can't shut a player like that down," Bell said. "Serena Wagner did a great job slowing her down and we were able to stuff her a couple of times."
The previous blocks record of nine was set by Providence in 2013 against Bishop Noll.
Jenna Dal Santo set a 2A record for kills in a three-set match with 23, breaking the record of 21 set in 2011.
"We knew this was going to be a fight," Jenna Dal Santo said. "We didn't expect to win it in three games. We knew we had to have a big game against a very good team."