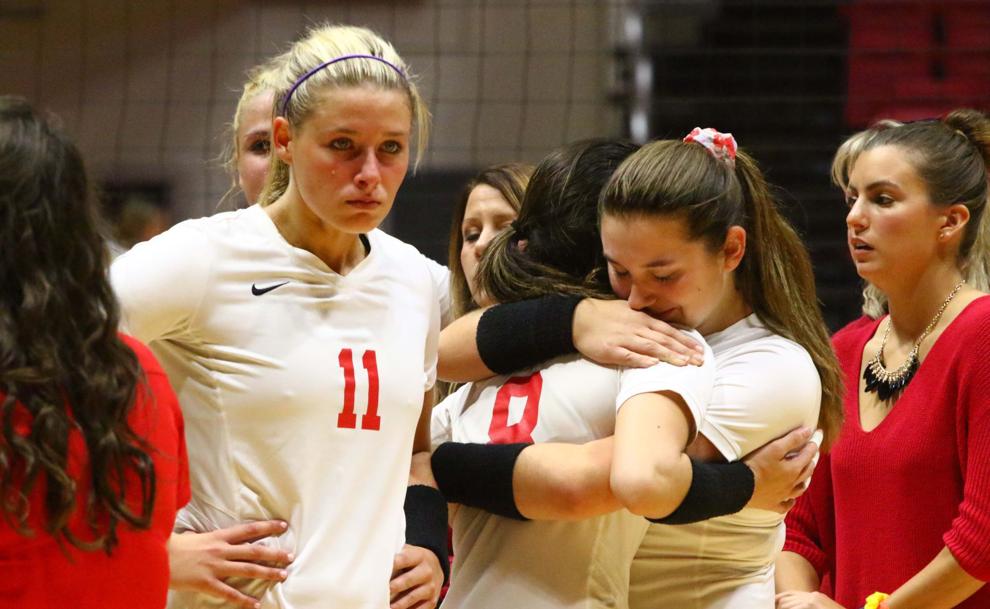 MUNCIE — Morgan Chacon shaped her hands into a heart and flashed them at younger sister Savana as the Crown Point senior was wheeled off the court.
In a horrific, fluke injury in the first game of Saturday's Class 4A state volleyball finals, Morgan Chacon broke her leg after jumping for a block and was taken to Ball Memorial Hospital a mile away from Worthen Arena at Ball State University.
Morgan Chacon had just connected on her sixth kill, pulling the Bulldogs within 14-12 in Game 1 against Avon. When the 'Dogs lost their best hitter and key team leader, the wind was taken out of their sails. C.P. fell to Avon 25-17, 25-18, 25-18 to finish runner-up in Class 4A for the second straight season.
"She is such a big part of this team," setter Alex Equihua said. "I have no words. It kills me that she wasn't out there with us."
The Crown Point team that had ridden an emotional high to return to the state finals after falling to Cathedral here last year lost its momentum with that fall.
"That changes everything because Morgan does a lot of work for us," coach Alison Duncan said. 'She takes a lot of balls in the middle off of the back row attack. When you change a lineup at this stage of the game, or when a player isn't in at this stage of the game especially someone that gets a lot of reps, you tend to be a little out of system."
Gallery: Crown Point in Class 4A state volleyball championship
Crown Point takes on Avon in the Class 4A state volleyball championship.
Photos by Kale Wilk, digital producer.
Morgan Chacon finished with six kills, still tying to lead her team offensively. Maddie Banter also had six kills and Reece Kral added five. Savana Chacon had nine digs, leading the Bulldogs (35-4).
Katie Marcinek was tabbed to take Morgan Chacon's back row reps and had six digs; Hannah Wold had two kills moving in to Chacon's front row duties.
"You can't fill a hole of Morgan Chacon," Duncan said. "I felt the kids that did go in played hard, but that's not easy."
After falling in the first game, C.P. tried to rally emotionally in the second, taking an early lead and holding on at 13-12 in time for the first TV timeout. After that timeout, Avon went on a 7-1 run to take the lead.
In the third game, the Bulldogs rallied to tie at 12-12 before Avon pulled away late with kills by Holly Eastridge. The 6-foot-3 junior Eastridge had 13 kills and 6-3 senior Jael Johnson had 12 kills.
"We wanted to stay aggressive as always," Equihua said. "We didn't want to be scared off the block and stay out of our head."
The Bulldogs graduate six seniors, including starters Morgan Chacon, Equihua, Alexis Woodburn (three block assists), Kral and Peyton Yelich (two block assists, four kills). Abby Negri, who also graduates, had a dig in the championship game. 
"You hate for this to happen to a kid like (Morgan) on this stage," Duncan said. "Someone who had such great work ethic and worked so hard with this team to get back here. Ultimately, we are all winners in our program because of the heart and dedication that we have."