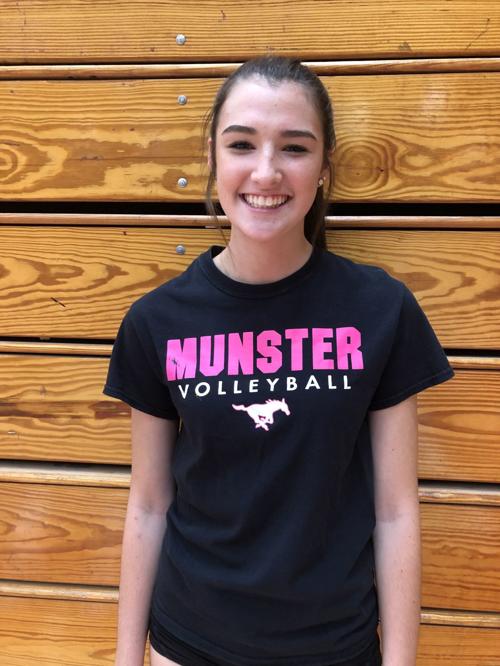 Haley Melby only spent one year playing alongside Madison Horin for the Munster volleyball team, but that was enough time for Melby to become a sponge and soak in everything she could.
With Horin playing for Southern California in college, Melby is emerging as one of the next collegiate prospects to come out of Munster. The sophomore outside hitter verbally committed to Iowa earlier this year and is now ready to help the Mustangs move beyond the loss of Horin.
"I always say that I want to be as good as the best," Melby said. "I always look up to Maddie. I loved playing with her last year and I want to take everything I learned and do it on the outside."
The comparisons between the two are natural in that they're both tall, powerful hitters, but Horin patrolled the middle of the net while Melby is a six-rotation outside hitter. Munster coach Brett Boden has coached both players, and while they have different responsibilities on the floor, he does seem some similarities as to how they approach the game.
"For as young as Melby is, there's so much potential there," Boden said. "Just like Maddie. Haley is on that same track. She's still growing and she just keeps getting better."
The Mustangs (7-5) have experienced some ups-and-downs in the early stages of the season, partly due to the fact that libero Sarah Morton (knee) has been out due to injury. The sophomore is expected to be cleared soon and Melby is excited to get back to playing with her talented classmate.
"We've been talking about how we're rebuilding right now," Melby said. "We might not have Maddie, but we're working through it. Our defense is stronger and we're working through those early jitters right now. A few big wins that we had last year have been losses so far, but we're continuing to work through it."
Both Melby and Morton were honored by the American Volleyball Coaches Association when they were named to the 2019 Phenom Watchlist last week. The Phenom list is comprised of standout underclassmen and the athletes needed to be nominated by their coach. The two Munster sophomores were joined on the list by local volleyball players Aniya Kennedy (LaPorte), Emily Rastovski (Morgan Twp.) and Crown Point sophomores Rachel Rossman and Kendall Schara. Former Boone Grove player Sophia Foster also made the list.
"It was exciting to get the honor," Melby said. "It reaffirms that Coach (Boden) believes in us. It reassures that I've worked hard and we'll continue to work hard."
Statement win for the Trojans: Chesterton got a much-needed victory on Tuesday night against rival Valparaiso in a win that could reverberate throughout the rest of the season. The Trojans started Duneland Athletic Conference play with two losses to LaPorte and Lake Central, with the latter coming in a five-set thriller. Dropping a third straight to open conference play would be crucial, especially with Crown Point on the schedule later in the week.
The Trojans won the first two sets 25-22, 25-22 before dropping the third 24-26. Chesterton rallied in the fourth set with a 25-18 victory to secure the match. The Trojans are now 4-2 this season in Amber McCaw's second season at the head of the program.
"The kids really put in a lot of work in the offseason and there are days that it all comes together for us," McCaw said on Wednesday afternoon. "There are days we're going to continue to struggle while going through some growing pains, but we're building something together here."
Sophomore Meghan Gaffigan shined with 17 kills against Valparaiso and the outside hitter leads the team with 52 kills this season.
"Her experience is showing through now," McCaw said. "The pressure of varsity got to her last year. There's a big difference between eighth grade and varsity. She was happy to be part of the team last year, but now she wants to be a top contributor."