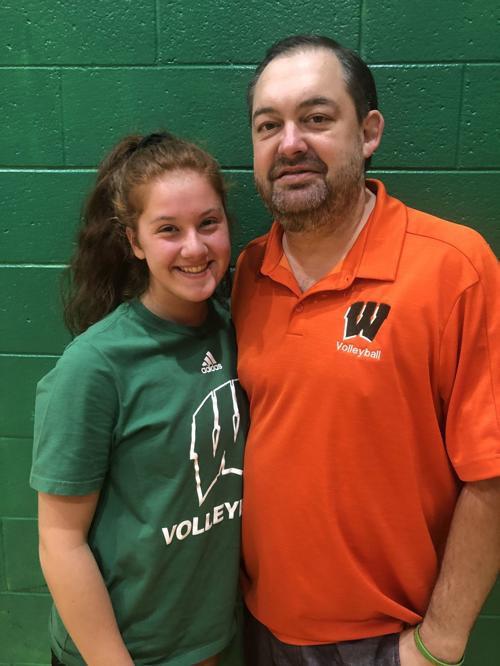 Ellie Bravo and TR Harlan have spent a lot of time getting to know each other in the last month, but not in the manner that either originally intended.
Bravo, a senior on the Wheeler volleyball team, was thrilled when she learned that Harlan was named the new volleyball coach earlier this year. Harlan took over the Bearcats after successful coaching stints with Chesterton and Michigan City.
"It was cool seeing someone at those bigger schools that would come and give us a chance," Bravo said. "He slowly started coaching us in open gym, and we've all changed so much (as players) since he took over."
The start of the season hasn't come without some frustration for both Harlan and Bravo, however. Harlan has been slowed by a foot injury that has kept him in a walking boot since last winter and it will lead to reconstructive surgery in the offseason. Just as the season began, Harlan's right big toe became infected and he's now in a partial walking boot on that foot, as well. That infection has led to having to take an IV three times a day, so Harlan has a port on his left arm.
"I coached the championship match of the Hobart Invite with an IV in my pocket," Harlan said. "I wore long sleeves and kept my body turned so my left arm wouldn't get hit with a ball."
While Harlan may be moving slower than normal on the sidelines, it's the place where he's expected to be for games. That's not supposed to be the case for Bravo, a senior setter that was expected to be a focal point of Wheeler's team until she was diagnosed with mono the week practice began.
"I had just gone through my tryout and was feeling really tired," Bravo said. "I thought maybe it was the stress of going back to school and tryouts and everything. It came back that I had mono and it was really upsetting. I couldn't believe that I had to miss practices and the beginning of the season."
Instead of sulking, Bravo chose to turn a negative into a positive and she became a student of Harlan's coaching style. She pulled up a chair right next to the longtime Region coach during games and she listened intently, waiting for the day when she'd be able to use all of that coaching back on the court.
"Honestly, it was such a cool experience," Bravo said. "I saw how much we both care; how much we both want to win. You can only do so much when you're on the sidelines. You want them to win so badly, so I just tried to do everything I could do to help out my teammates."
Bravo was cleared to return to action last week and she played briefly against Andrean before reclaiming her spot in the lineup in a win over Boone Grove. While she enjoyed her coaching tutorials from Harlan, she's glad to be back on the court.
"Not a chance," Bravo said when asked if she missed being next to her coach on the sidelines. "I missed a lot of games in my senior year. I just want to go out there and win as many as I can and we want to go as far as we can."
Bullish Revenge: The Crown Point volleyball team continued its early-season scheduling gauntlet over the weekend and the Bulldogs gained a measure of revenge in the process. Crown Point has played several of the top teams in the state already this season, and the Bulldogs got a nice win on Saturday at the Avon Classic when they knocked off Carmel in three sets. The win came two weeks after the Greyhounds beat Crown Point in four sets at the Carmel Invitational.
Crown Point also beat Avon 2-0 on Saturday. The win was noteworthy as the Orioles defeated Crown Point in the 2017 Class 4A state finals. The Bulldogs (12-4) are ranked fifth in the state, according to Max Preps, and have played four of the top 11 teams in the state. Crown Point is the last team without a loss in the Duneland Athletic Conference and will host Valparaiso and travel to Portage this week.