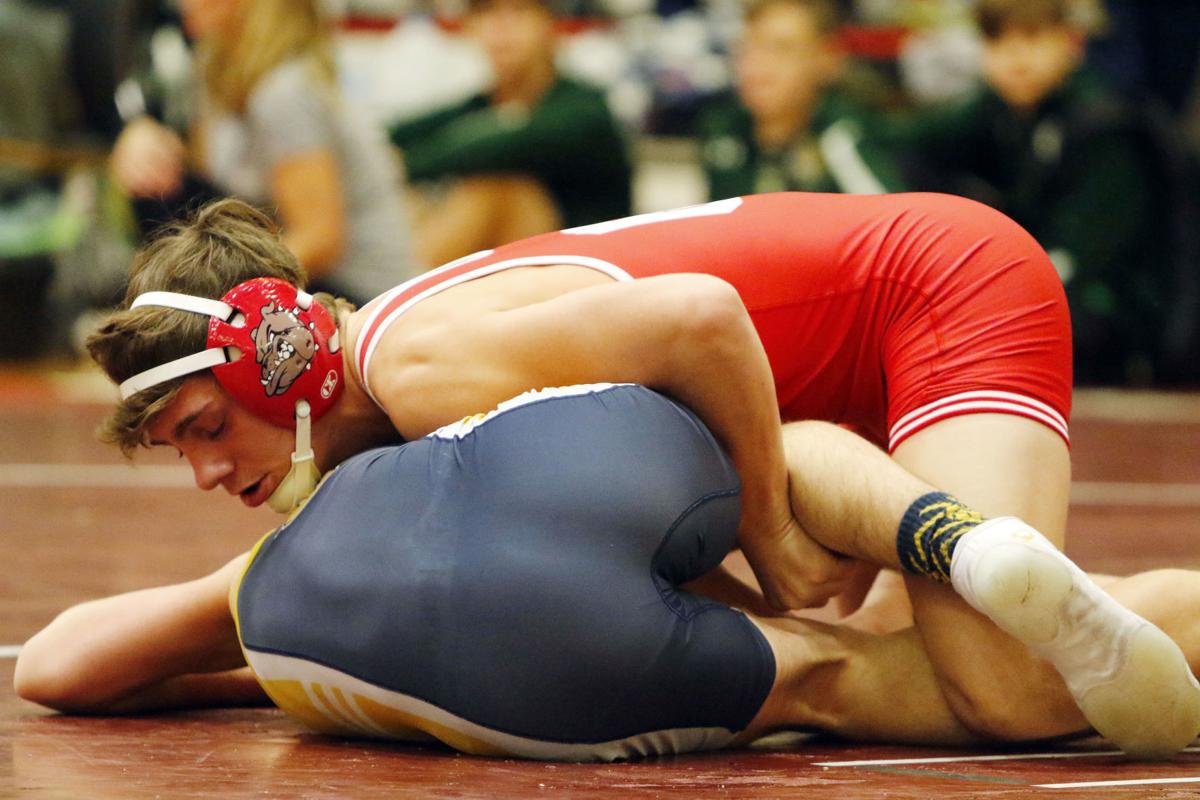 EAST CHICAGO — It wasn't easy, but semistate titles rarely are.
Crown Point held off Portage and Merrillville to win the E.C. Central wrestling semistate with 87 points. The Indians finished second with 81.5 and the Pirates third with 71.5.
"They worked for bonus points. They fought off their back," Bulldogs coach Branden Lorek said. "We knew we were capable of this. We've left a few big tournaments slip through our fingers so this was a nice one to get."
Crown Point won its only previous semistate team title under the current structure in 1988. Team scores are determined by individual wrestlers accumulating points in the state series since 2013. Between 1996 and 2012, a separate team state tournament was held. The Bulldogs won four consecutive semistate titles under that format from 2009 to 2012.
"It's awesome. (Assistant coach Bill) Hawkins said last time we won it, he was in high school," Lorek said. "It's a great feeling. We've been all about the team and the guys went out there and they executed."
C.P. advanced six individual wrestlers in next week's state finals.
Freshman Jesse Mendez cruised through the 126-pound bracket, winning all four matches by fall. He pinned Mishawaka's Brendon Mark at a minute, 28 seconds of the final match.
"It feels great. There's a first for everything," Mendez said. "I think I'm wrestling really well. My attacks are really coming together and I think I can get the job done (at state)."
Mendez (42-0) will be the favorite in his weight class.
Moran's ready to defend
Portage senior Jacob Moran took a major decision from Merrillville's Martin Cruz in the 113-pound final.
"(Cruz) is just a kid who's going to go, go, go, no matter if he's up by 14 or down by 14," Moran said. "I knew I had to keep pushing the pace. I did for the first two, but that last period I should've been better."
Moran will be looking for his second state championship after winning at 106 pounds last season. He's committed to Indiana University.
"Everyone's looking to take me down after my state title last year," he said. "I'm going to get get the best out of everyone and that's what I want. I'm looking to finish off with another state title and then head over the IU."
Johnson give Gavit two straight qualifiers
Gavit senior Jaymiere Johnson gave the Gladiators their second state qualifier in two years, finishing fourth at 160 pounds Saturday.
"I feel like I belong here. I put in the work," he said. "All glory to God, but I was bound for this."
Jamari Washington advanced beyond semistate last year. He's wrestling for Wabash College but called Johnson after the ticket round Saturday.
"That's my brother, my blood, my guy," Johnson said. "He just called and congratulated me."
Bates goes on a tear
Evan Bates was ranked fifth in the state at 182 pounds when the regular season ended.
The Chesterton sophomore beat two of the wrestlers ranked ahead of him en route to a semistate crown Saturday.
Bates ended the season for Mishawaka's Jacob Laplace, ranked No. 2, in the ticket round. He won a 5-4 decision over Culver Academy's Andrew Donahue, ranked No. 4, in the final.
"I did a pretty stupid move last time (against Laplace) that cost me a reversal. I didn't make that many mistakes (today)," Bates said. "I just knew I still had two more tough kids I had to wrestle. I wasn't going to get much easier."
Get in the game with our Prep Sports Newsletter
Sent weekly directly to your inbox!