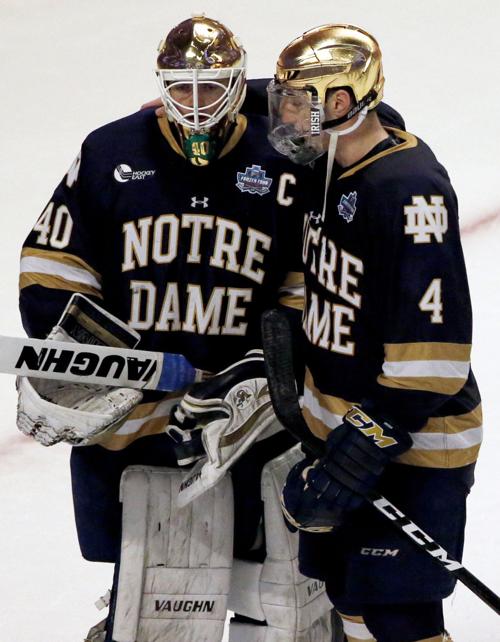 CHICAGO — Dylan Gambrell scored twice, Tariq Hammond had a goal and two assists, and Denver routed Notre Dame 6-1 on Thursday night to advance to the Frozen Four championship.
Top-seeded Denver dominated from the start, using a blend of speed, precision and power to overwhelm the Fighting Irish. Emil Romig and Henrik Borgstrom scored in the first period, and the Pioneers put it away with three more in a 4:11 span in the second.
Denver also made it to the national semifinals last year, falling 4-2 to eventual champion North Dakota in heartbreaking fashion. The Fighting Hawks advanced with two goals in the final 56.8 seconds, and the Pioneers have been on a mission ever since that loss in Florida last year.
Next up is Saturday night's final against conference rival Minnesota Duluth, which edged Harvard 2-1 in the first semi at the United Center. The Pioneers (32-7-4) and Bulldogs split two games in Denver on consecutive nights in December.
Denver is going for its first title since 2005 and the eighth overall for one of college hockey's marquee programs.
Cam Morrison scored a power-play goal in the third for Notre Dame (23-12-5), which advanced to the school's third Frozen Four with surprising comeback wins against No. 1 seed Minnesota and second-seeded UMass Lowell. Cal Petersen finished with 36 saves.
Dennis Gilbert, a third-round pick by the Blackhawks in 2015, had a huge open-ice hit on Denver's Liam Finlay early in the second, but that was one of the biggest highlights for Notre Dame. The fourth-seeded Fighting Irish had three shots on goal in the first and just 17 for the game.
Denver grabbed the lead for good at 8:18 of the first. Colin Staub passed to Romig behind the net, and the senior forward skated in front before beating Petersen with a top-shelf shot for his ninth goal of the season.
Senior captain Will Butcher, a finalist for the Hobey Baker Award, then set up the Pioneers' second goal with strong rush behind the net. He skated around to the other side and left in front for Borgstrom, who slammed it in for his 22nd at 14:50.
Notre Dame played a little better at the start of the second, but Denver responded with an impressive burst. Hammond finished off a 2-on-1 with Evan Janssen at 14:07, and Gambrell then made it 4-0 with a wraparound that went off Petersen's right arm.
Staub picked up an Irish turnover and passed to Evan Ritt for the senior's second goal, making it 5-0 at 18:18 and taking much of the air out of the crowd.