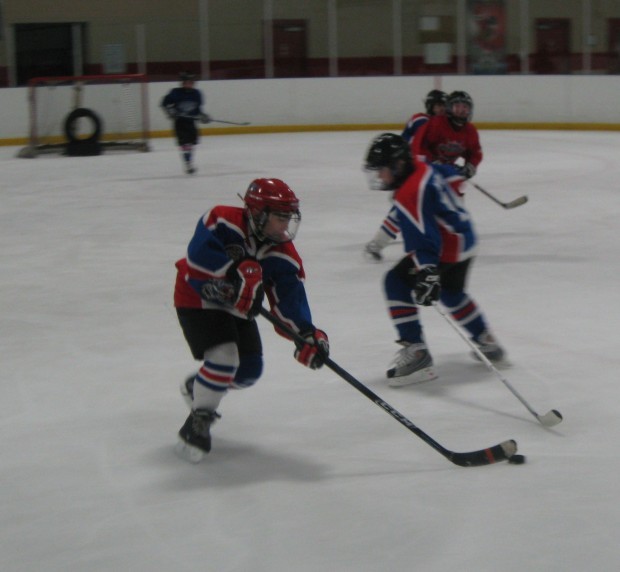 ST. JOHN | The famous verse from poet John McCrea -- To you from failing hands we throw the torch/Be yours to hold it high -- was made even more famous when the Montreal Canadiens posted it prominently in their locker room.
Veteran professional hockey player Jim Stussy may not be ready to throw the torch yet, but if he does it will had burned brightly for him at the end.
"I'm pretty much known for being a physical player more so than a scorer," said the Beaver Fall, Penn. native, who has been a player/assistant coach for the Chi-Town Shooters for the past three seasons. "So if I did play my last game, it would be nice to say I went out scoring two goals with an assist."
Despite Stussy's efforts, the Shooters fell to the Battle Creek Revolution 6-3 in the deciding game of the Davidson Cup --  the All-American Hockey League championships.
"Maybe we'll be back next year," Stussy said of the Shooters and the AAHL, which contracted its league and schedule after numerous teams folded during the season.
When he's not playing hockey, Stussy is helping others learn the game as the hockey director and skills coach at Midwest Training and Ice Center.
"The (Midwest Youth Hockey Association) has really grown," Stussy said. "I think the Blackhawks winning the Stanley Cup has helped get more kids interested.
"Me playing on the Shooters may have helped, too. I coach them during the day, and then they come out on Saturday night and see me play."
Stussy coached the Midwest Maniax II Squirt (ages 9-10) team that defeated Admirals Red in a shootout to win its division in the Northwest Hockey League Championships held March 6 at Franklin Park Ice Arena.
Several other Maniax teams also had successful seasons.
In the Northern Illinois Hockey League, the Maniax Silver Squirt (10-and-under) travel team advanced to the Final Eight in the playoffs after finishing in third place in its nine-team tier.
"They did a great job making to the next level of play," said Silver Squirt coach Jeff Aiello, who is happy to see ice hockey re-emerge in the area despite having vested interests in roller hockey.
"After playing ice hockey, I played a lot of roller hockey," said Aiello, who also invented and patented the bounce-free z-ball and z-puck for roller hockey.
"Now, I'm working on a puck designed for synthetic ice," Aiello said.
The Maniax Silver Bantam (14-and-under) travel team also qualified for the postseason amid the Northern Illinois Hockey League.
"We went against the No. 1 seed (Hoffman Estates) and played real well for the first two periods," Maniax Silver Bantam coach Mike Blessing said. "The game got away from us in the third period.
"We were a relatively young team. I'm proud of the way we played, especially our girl goalie (Jessica Joy)."
There were nine Maniax teams for the winter session. Preparations for the spring session are underway.
"We have 30 coaches ... about three or four a team," said Midwest Youth Hockey Association president Brent Giffin. "There's a lot to learn in hockey."
According to Giffin, the toughest thing to teach to players new to the ice is stopping on a dime.
"Skating backwards isn't all that difficult," Giffin said. "We can have most kids skating backwards in 15 minutes. It's stopping in hockey skates with rounded blades that's hard to learn."