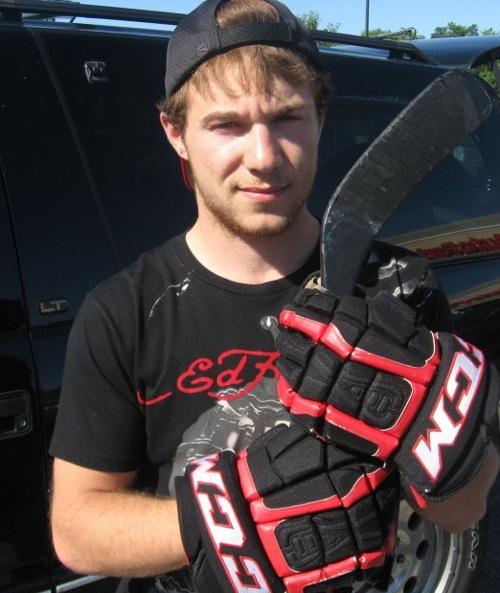 CROWN POINT | Like it or not, fighting is part of hockey.
And -- like it or not -- it's also a part of Patrick Gazzillo's game.
But, it's not the whole package.
"I wouldn't necessarily call myself an enforcer," said the Crown Point 16-year-old of the reputation he's earned as a defenseman for the Chicago Fury AAA hockey team. "But I am a physical and intense player who will respond to situations involving myself or my teammates.
"There's always going to be fighting in hockey, but nowadays, you can't be out there for just one purpose. You have to know how to skate and how to play."
Several weeks ago in the United States Hockey League entry draft, Gazzillo was selected in the third round (44th pick overall) by the Chicago Steel.
"I had a good feeling that I was going to get drafted," said Gazzillo, who played briefly for the Steel during the 2010-11 season before honing his skills with the Fury last season, "but I didn't think I'd go as early as the third round."
Gazzillo still has to make the team. Tryouts will begin this weekend in Bensenville.
"I'm confident that I have a good chance," said Gazzillo, who will be a senior next fall at Crown Point High School, but has never played hockey for the Bulldogs.
"I wouldn't have had time to practice with (Crown Point) while playing for the Fury," Gazzillo said. "I could have probably played in some games, but I don't think they would have allowed me to play and not practice.
"I do play (with Bulldog players) in rat hockey in St. John."
The Steel is a Tier 1 Junior A-level team.
"A lot of guys who'll play in college play at that level," said Gazzillo, whose first choice for him would be Union College in Schenectady, NY.
"I have a lot of family members out there," he said.
Whether he makes the Steel roster or not, Gazzillo doesn't plan to  return to the Fury, which won its four-team state tournament before losing in the regional.
"I don't want to go back to Triple-A hockey," Gazzillo said. "If worse comes to worst, I would more likely play for a Tier 2 Junior team.
"There are certain aspects of my game that get restricted in Triple-A."
One of those is dropping the gloves.
"Fighting is not allowed in Triple-A," Gazzillo said. "When you do fight, you don't get a five-minute major, you get a three-game suspension or even get kicked out of league.
"But when you're playing in a league where everyone's wearing a face mask and they know you can't fight back, then everyone's a tough guy. They can just come right at you, hit you from behind, throw cheapshots ... be all over you.
"When players know that you can and will retaliate (when provoked), it gives you more room to skate. When fighting is allowed, it actually makes the game less rough and better to play."