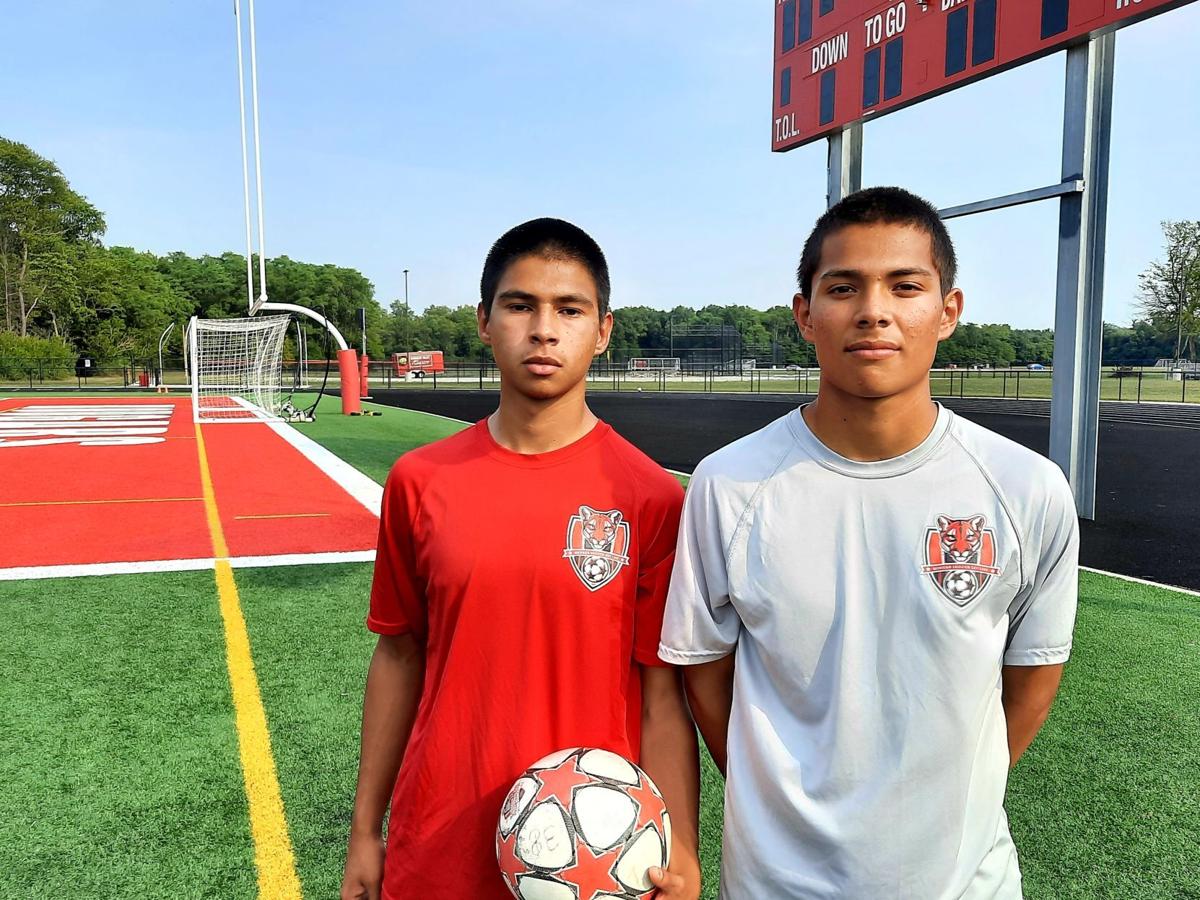 WHEATFIELD — Kankakee Valley soccer has a new attitude thanks to a couple of seniors with a little bit of military experience.
"Like our drill sergeants would say, 'Embrace the suck,'" Chris Varela Carrera said. "It's two months of pain. The fastest way to get out was to graduate. I set my mentality on that and made the best of what I've got."
Varela Carrera and fellow Kougars senior Brandon Ruvalcaba spent their summers in basic training with the National Guard at Fort Leonard Wood in Missouri.
"A lot of that mentality you gain over there, I brought it back here," Ruvalcaba said.
The pair of defenders couldn't have chosen a better partner for basic training. They began playing together when they were about 6 years old, almost every team in indoor soccer, outdoor, club, school, whatever.
Ruvalcaba is only five days older than Varela Carrera. Their mothers are so close they went with each other to prenatal doctor appointments.
"We live in the same town. We're practically neighbors. I've known him my whole life," Varela Carrera said. "I basically see him as a brother."
Military service was Varela Carrera's idea. He said he's always wanted to be in the Army. Family members have tried to serve but were denied because they weren't documented citizens.
"I've always been like, 'I want to join the Army, mom. I want to join the Army, mom.' She's always said I'm crazy but it's just something I've always liked," he said.
The National Guard was recruiting at KV last year. Varela Carrera learned he could sign up at 17 and jumped at the chance. 
"I'm the first in my family to be in the Army. I feel like that's an accomplishment because all my cousins and friends are looking up to me. They want to join the Army now," he said.
Ruvalcaba wasn't as excited at the prospect, initially. He needed some coaxing when Varela Carrera came to him with the plan.
"At first, I was pretty iffy. I didn't know if it was what I wanted to do for my career. But I looked into it and some of the stuff looked like it could really help me out," Ruvalcaba said.
Neither player touched a ball for about two months. It took a little time for the footwork and technique to come back. The chemistry with the rest of the defensive group wasn't a problem, though.
"It only took like a week to get back into it because we've already played with these guys so much," Ruvalcaba said.
Both play defense. Ruvalcaba plays outside fullback. Varela Carrera plays a sort of sweeper/center back hybrid position in the Kougars 4-4-1-1 formation. Both have played premier-level club soccer, which isn't the norm at Kankakee Valley like it is at some other area schools.
Teammates respect them both for their abilities and personalities. KV waited for them to return from Missouri to vote on the last captain spot. Almost every vote went to Varela Carrera.
"He's very vocal. He's not afraid to tell players where they need to be or what they need to do," coach Jovan Jeftich said. "That's why we have him playing where he's playing. He's smart. He recognizes what he needs to do and what others need to do."
Ruvalcaba is a more quiet player and person. That doesn't mean he's less valuable, though. Jeftich said one of his strengths on the pitch is winning balls in one-on-one situations.
"He's going up, challenging, winning a lot of air balls for us. He's just a hard-nosed, hard-working player and a good technical player," Jeftich said. "It shows on the field that he's played a high level, that he's got proper training. He doesn't get beat very often."
Missing two guys like that during early practice and the first few games wasn't easy. Jeftich said he had younger players in those spots who are capable but lack the experience. The Kougars lost a couple of close games that two senior leaders in the back may have swung the other way.
Because they were on different schedules, they came back to the team at different times. Ruvalcaba returned for the third game of the season. Varela Carrera missed four.
"One we came back, I had someone to talk to about it. We could relate," Varela Carrera said. "We're that less than one percent that get that experience. We have someone to talk to. That's good, especially with (Ruvalcaba) because we're really close. We're basically family."
They weren't together during basic training, though. Ruvalcaba was with the combat engineers, learning to breach buildings and "blow stuff up." Varela Carrera was with the artillery group, being taught to blow stuff up with cannons.
They kept in contact with the team through Ruvalcaba's younger brother, freshman midfielder Anthony. Jeftich said he knew they were excited to get back to soccer.
But because they were in different groups, they only saw each other for a few hours during Catholic mass on Sundays.
"Those Sundays when we would see each other, that's the only time I would really feel happiness," Ruvalcaba said.
Basic training wasn't as physically demanding as either expected, though. It was much more taxing mentally, they said.
Contact with the outside world was limited to 30-minute weekly phone calls or inconsistent letters. Superiors were constantly yelling. Early morning, unexpected wake-up calls were designed to keep them ready at all times.
"Being away for so long, with no contact with anybody at home, you're just stuck with a bunch of strangers and you've got to get to know them and build a connection," Ruvalcaba said.
They also experienced a weakened gas cloud designed to give them a sense of what it would be like to be attacked with chemical weapons.
"The gas chamber wasn't too bad. It burned for a couple minutes but after that you're fine," Varela Carrera said.
They'll go back next summer and one weekend a month after that. Both plan to go to college, hopefully on a soccer scholarship. Ruvalcaba wants to study videography. Varela Carrera is looking into criminal justice with the idea of getting into law enforcement.
Later this fall, they hope to bring KV its first postseason trophy since 2010. They'll do it armed with an experience and confidence gained this summer.
"It might've sucked to be over there but not a lot of people can say they did what we did," Ruvalcaba said.
Football recap: Merrillville, Valparaiso win to stay unbeaten and atop DAC
Merrillville pulled away from Michigan City and Valparariso held off Chesterton to remain perfect through five games.