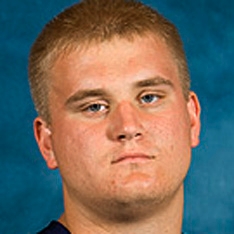 CROWN POINT | Kurt Wermers, a former standout offensive lineman at Crown Point, has left Michigan and will take his 6-foot-5, 270-pound frame to Ball State this fall, where he'll have to sit out this season.
Wermers said he didn't mesh with Michigan's new coaching staff, led by head coach Rich Rodriguez, who took over for the retired Lloyd Carr following the 2007 season.
"I really didn't get along with the new coaches," Wermers said. "They were bringing in a lot of different kids that were not my kind of crowd. Coach Carr's staff was a whole different ballgame. It was like a family. But when Rodriguez came in it was a whole different feeling. It was more of a business.
"I figured I'd get out while I could."
Wermers will join Lowell's Jeff Barker, Lake Central's Dan Manick and E.C. Central's Matthew Page on the Cardinals' roster, and former Hobart standout Phil Burnett is Ball State's recruiting coordinator for Northwest Indiana. The Cardinals went 12-0 last season before losing to Buffalo in the Mid-American Conference championship game.
Wermers is currently taking summer classes at Ivy Tech in Valparaiso.
"I'll have to sit out one year but that doesn't bum me out too much," Wermers said. "I'll get to be on the scout team so I can still practice and I get a full year to learn the system and get stronger."
Crown Point coach Chip Pettit said the transfer might work out the best for Wermers.
"Hey, Ball State has a great program, but it's a little smaller than Michigan," he said. "It might be easier for Kurt to find himself there. I think this will work out in his favor in the end."
While Wermers wasn't happy with the Wolverines' new coaching staff, he noted he will have positive memories about his one year up north.
"It was fun, a great school and I loved my teammates," Wermers said. "But if I'm not happy every day that I wake up, why keep doing it?"