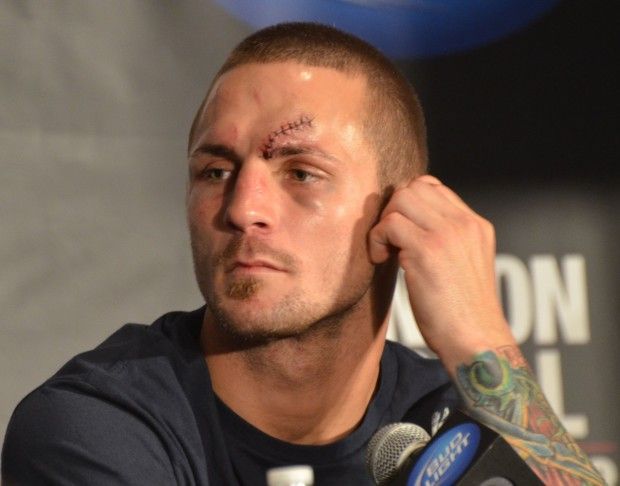 LAS VEGAS | After a lengthy layoff that had him questioning whether he'd return to the fight game, Eddie Wineland is back.
The Ultimate Fighting Championship bantamweight, who has been out of action since a broken jaw suffered in a May 2014 fight in Cincinnati, will return this July in Chicago at UFC on Fox 16 to face Bryan Caraway.
UFC officials confirmed the fight booking to The Times on Thursday in Las Vegas. UFC on FOX 16 takes place July 25 at United Center in Chicago. The main card will air on Fox. It is not yet known where the Wineland-Caraway fight will fall on the card.
Wineland (21-10-1, 3-4 UFC), of Westville, was a heavy favorite against Brazilian Johnny Eduardo at UFC Fight Night 40 a little more than a year ago. But he got caught with a pair of powerful right hands that broke his jaw and he was knocked out in the first round. His jaw had to be wired shut, and he endured a lengthy recovery period in which it was suggested by doctors, he told The Times last year, he might reconsider returning to the cage.
But return he will, and at the place of his most recent victory – a second-round TKO of Yves Jabouin at UFC on FOX 10 in January 2014. Prior to that victory, Wineland, the first 135-pound champion in World Extreme Cagefighting history prior to that promotion's merger with the UFC, had a shot at the UFC's interim bantamweight title. But he was stopped early in the second round by Renan Barao in September 2013.
In Caraway (19-7, 4-2 UFC), Wineland faces an opponent who called him out in June 2014 after a win over Erik Perez – even though Wineland was on the shelf with the broken jaw. Caraway went on to lose a unanimous decision to Raphael Assuncao this past October, but now gets his wish of nearly a year ago with a fight against Wineland.
Caraway's girlfriend, recent UFC women's bantamweight title challenger Miesha Tate, also is set to fight on the card in Chicago against Jessica Eye.
The UFC on Fox 16 main event features a bantamweight title rematch between former champ Barao and T.J. Dillashaw.