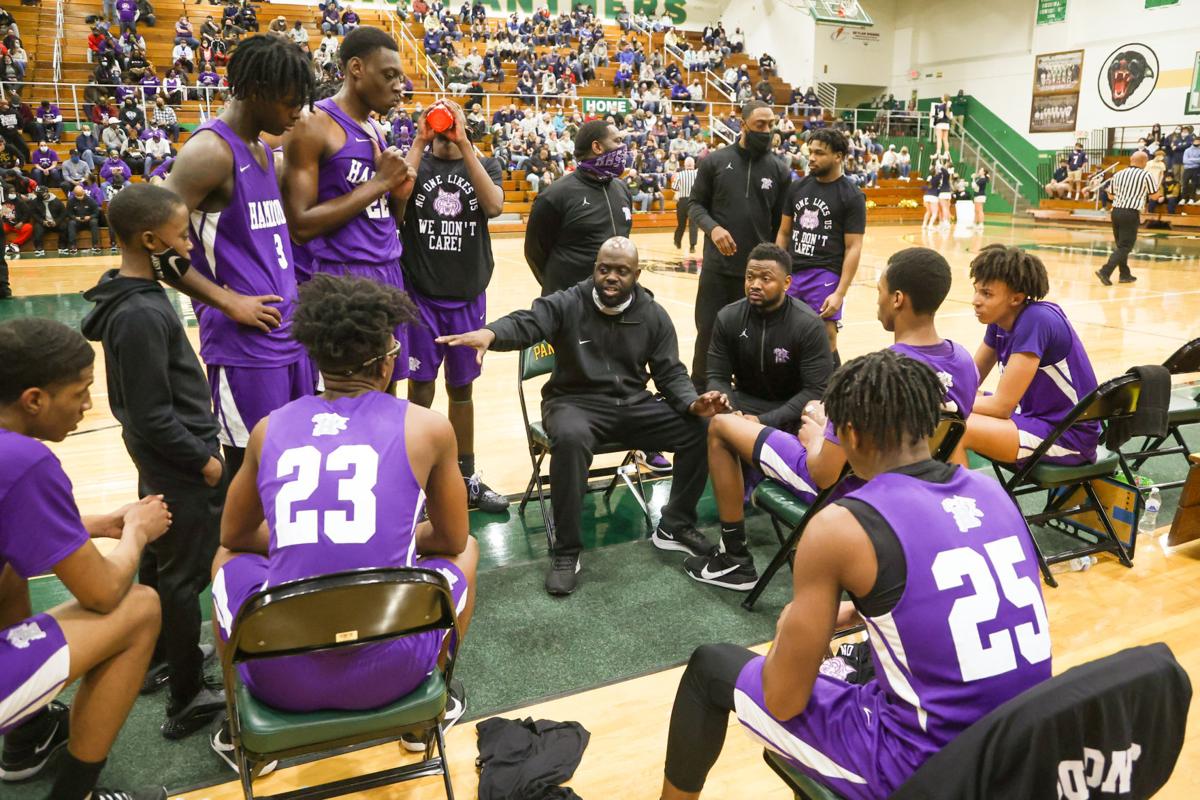 Larry Moore Jr. is scrambling to put together a scouting report and prepare a team for The Basketball Tournament next week after getting the phone call that his team was added late.
The Hammond Central coach will be on the bench for the Chicago Hoopville Warriors. The program's been part of the tournament since it began in 2014, but didn't make it through the application process this year.
Tubby Time, a team made of players who were coached by former Kentucky and Minnesota coach Tubby Smith, dropped out last week after "unforeseen, non-health and safety related player defections," according to the team's Twitter account.
Chicago Hoopville general manager Britt Booker got the call asking if his team would be ready to replace Tubby Time on short notice. Moore said a conference call was made with all the players and coaches about five minutes later. Then came the planning and logistics because not all of the players are from the area.
Only two weren't able to play.
"We're veterans in the planning of this so we knocked it out pretty quickly," Moore said. "We're going to be ready to go."
Moore's been with the team formerly known as Illinois Hoopville as long as it's existed. He's been an assistant coach.
Booker and Moore are part of a four-man staff that also includes Damien Mobley, who coaches high school basketball in Texas, and Ken Hort, who coaches at Bogan High School in Chicago.
Mobley and Book played at Brother Rice High School. Moore played at St. Francis deSales.
"We're all high school head coaches so we kind of all coach," Moore said. "Booker takes that lead and sits at the head but we're all instrumental in the game plan and scouting reports. We're all responsible for getting notes and what we see. We're bouncing ideas during the course of the game and even during film sessions. When you have that many head coaches it really works out well because there's a lot of knowledge sitting on that bench."
On short notice, not a lot can be installed in practice. Moore said the team will go over a few sets and defensive schemes. A lot will be based off of pick-and-roll, offensively.
"They're all pros so it's not like we're getting a group of guys who don't understand what spots to be in or spacing, things of that nature," Moore said. "We play college rules in the TBT so we can play some zone. If there's a time we need to go zone for a possession or two to change up the flow, we can make those adjustments."
The first-round opponent, Always a Brave, is made up mostly of Bradley University alumni and TBT veterans with a program record of 8-3 in the tournament. The game will be at Carver Arena in Peoria, so Always a Brave will also have a home-court advantage.
Moore is familiar with Always a Brave forward Max Bielfeldt, having coached him in AAU. Bielfeldt played at Michigan and Indiana in college.
"He's a big, physical guy. He's a bruiser but he can hit the 15-footer," Moore said. "These guys have played together for several years. You're facing a team on their home floor and they're familiar. I know they're probably already in Peoria, spending time together and eating together, maybe staying together."
Moore will be familiar with some of the Region team on the other side of the bracket. He knows Merrillville coach Bo Patton and grew up with general manager Corey Moore. They talk on a regular basis, even outside of TBT, Moore said.
Hoopville opens play at 6 p.m. Saturday. The tournament ends with the title game on Aug. 3.