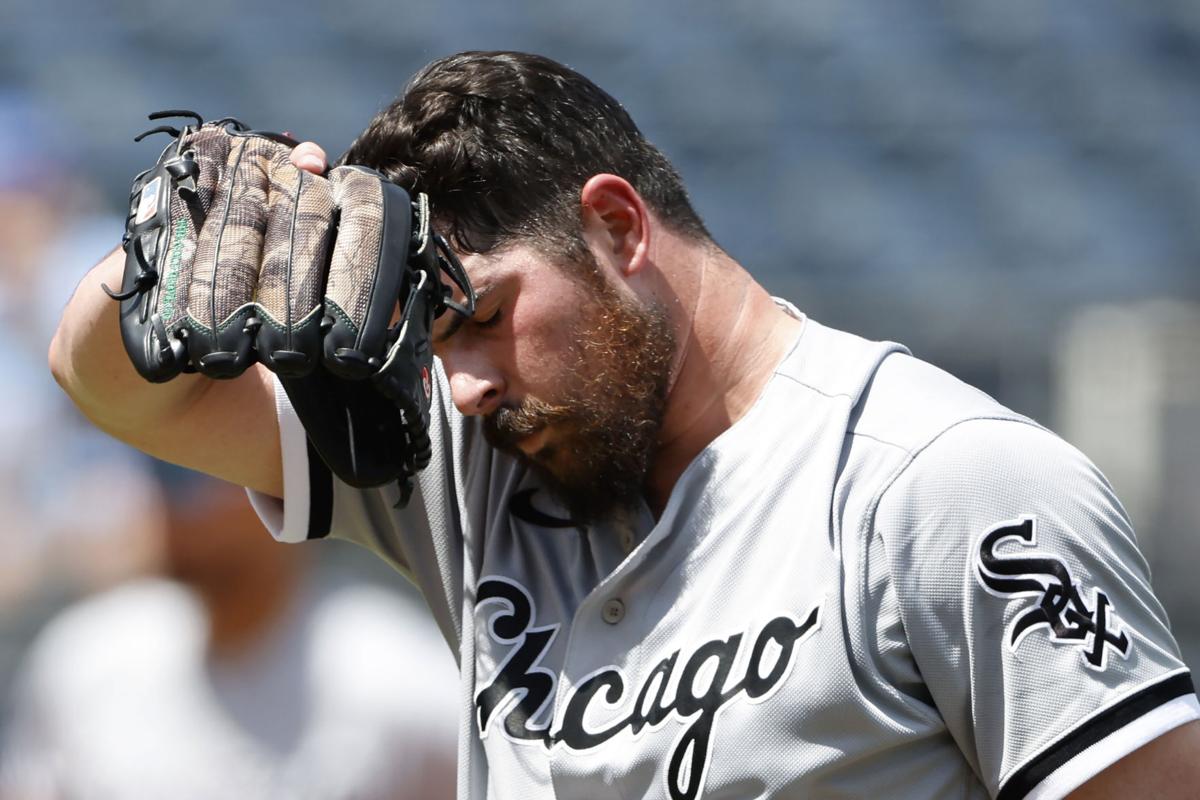 Reliable reliever Ryan Tepera is heading from the North Side to the South Side.
The struggling Cubs traded the 33-year-old right-hander to the crosstown White Sox on Thursday for minor league lefty Bailey Horn, giving the AL Central-leading White Sox some bullpen help for the rest of the season and maybe the playoffs, too.
It was the second trade of the day for the White Sox, who also acquired slugging second baseman Cesar Hernandez from the Cleveland Indians for minor league pitcher Konnor Pilkington
Tepera is 0-2 with a 2.91 ERA and 50 strikeouts in 43 1/3 innings this season and has allowed just one home run over his last 36 appearances. Over his seven-year major league career with Toronto and the Cubs, he's 12-14 with a 3.54 ERA in 279 1/3 innings.
"Ryan has been an extremely reliable bullpen arm this season and throughout his career," White Sox general manager Rick Hahn said in a statement. "We are very pleased to add him to our talented and versatile group of relievers. Across his career with the Blue Jays and Cubs, Ryan has succeeded in a variety of situations and has the ability to get both lefties and righties out at very high rates."
Horn is a combined 2-3 with a 5.63 ERA in 14 appearances for Low-A Kannapolis and High-A Winston-Salem.
In Hernandez, Chicago is getting a Gold Glove defender who can bat leadoff and drive in runs for manager Tony La Russa. The 31-year-old Hernandez is hitting .231 in his second season with the Indians with a career-high 18 home runs and 47 RBIs in 96 games.
"Cesar Hernandez provides our club with a valuable combination of a power bat in the middle infield and Gold-Glove quality defense," Hahn said. "Adding a player like Cesar gives Tony a strong and proven option at second base for the stretch run of the season and hopefully into October."
Hernandez had been viewed as the player most likely to be dealt before Friday's deadline because of the Indians' depth with middle infielders. Antonetti said it's possible the Indians could make more deals as they begin to look toward 2022.
The 23-year-old Pilkington has pitched at Double-A Birmingham, where he went 4-4 with a 3.48 ERA in 14 starts. He did not pitch in 2020 because the minor league season was canceled by the COVID-19 pandemic. He was drafted in the third round by the White Sox in 2018.
On the field, Carlos Hernandez pitched six scoreless innings, Salvador Perez homered again and the Royals beat the White Sox 5-0 on a blistering Thursday afternoon. Perez put the Royals ahead with his 25th homer, a two-run shot in the first inning off Carlos Rodon (8-5). The Royals catcher hit a game-tying solo shot in the ninth Wednesday night before they won in 10 innings.
Rodon gave up four runs on eight hits over four taxing innings — the Royals had two hits in each of those innings. He struck out four without a walk.
The White Sox offense was dormant without three starters in the lineup, getting shut out for the sixth time this season. Jose Abreu (stiff neck) and Eloy Jimenez (right groin tightness) missed because of injury while Tim Anderson had a scheduled day off.