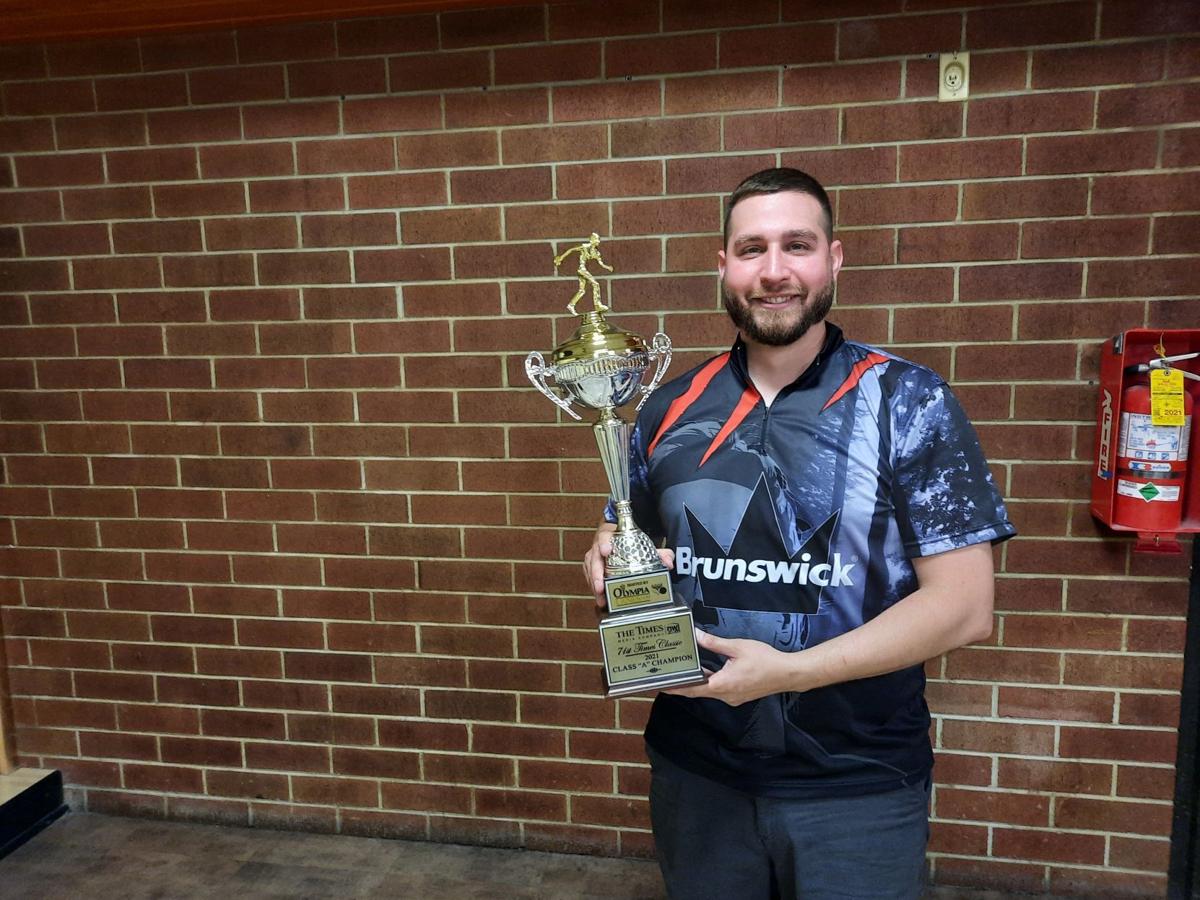 HAMMOND — Few finals in the 71-year history of the Times Classic were as dramatic as Sunday's at Olympia Lanes.
Jon Salas, of Hammond, and Bobby Kammer, of Crown Point, had struck on eight of nine throws going into the 10th frame. Salas bowled first and struck out to finish with a 279. Kammer left a 10-pin on his second throw. He finished with a 267.
"Bobby Kammer is one of the best bowlers in the Region. I knew that coming into it, that he was going to be tough," Salas said. "At this level, everybody can strike. Everybody here can shoot 800 (series), 300 (games). You just have to trust your process."
Salas, who's twice been top qualifier but never finished higher than sixth, had surgery to remove a foot of his colon last June due to diverticulitis. He didn't bowl from February to August. The Classic was his first big win since coming back to bowling.
"It feels so good," he said. "This one feels good, just to know that I can still compete out here. It took a lot to come back, a lot of running and a lot of working out and a lot of eating right."
Kammer was emotional after the final game. He was wearing the hat of his cousin Evan who hit his head while having a seizure and died about three months ago. His shirt had a photo of his grandfather, Bob Kammer Sr., on the sleeve.
The elder Kammer, an area bowling legend, died in 2015. His best Classic finish was second place.
"I was thinking about my grandfather today," Bobby Kammer said. "I'm kind of disappointed I couldn't win it for him."
The family has a long history in the Classic. Kammer's father, Bob Kammer Jr., was the 1997 Class A champ.
"Everything I was doing today was for my family," Bobby Kammer said.
At the start of the day, Salas's father, Jesus, was bowling in the Class SA finals. He finished eighth but said he was happy to have the chance to see his son bowl for a championship.
"He followed in his dad's footsteps. I had diverticulitis so he wanted to get it, too," Jesus Salas said. "I'd rather see him win than me anytime. It'd have been great to see father/son in the finals, but it didn't happen."
Jon Salas also had a cheerleader in third-place finisher Luis Alcantar. Alcantar and Salas are good friends who grew up together.
It was Alcantar who looked like the tournament was his to lose for almost its duration. He was the No. 2 qualifier and was atop Class A after the semifinals.
"I told my parents I was going to win this thing but it was all on me and I made a couple bad shots. You can't open with these guys," Alcantar said after being knocked out in the third round. "That's bowling. Now I get to watch my guy try to win this thing."
On Sunday, it was Kammer who looked locked in from the start. He bowled games of 279, 237, 256 and his final 267.
"I thought I was throwing it pretty well all day and it really was just about who blinked first," he said. "I made a mistake and he didn't."
Softball & Baseball Recap: Catch up on last week's excitement here!
Calling all Region prep softball and baseball fanatics! Catch up on coverage from last week's games here.