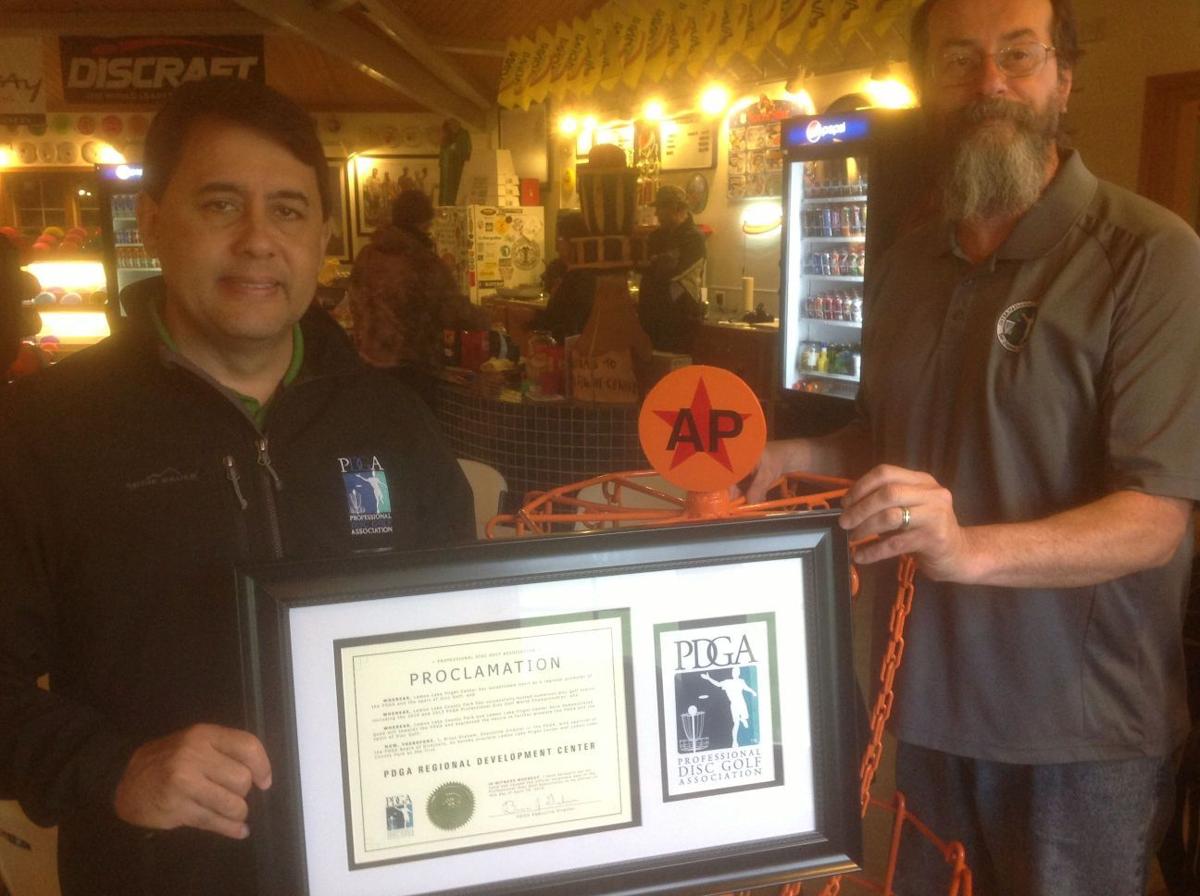 CROWN POINT | The soaked-to-the-bone-chilling April shower that persisted during the final Saturday of last month washed out just about every outdoor activity.
Except the Vibram Birdie Bash disc golf tourney at Lemon Lake County Park.
"You kidding me?" said Jay Svitko, who was taking a sheltered lunch break after one puddle-wonderful round only to go out and get drenched again.
"Conditions like these don't stop disc golfers," Svitko said. "Actually, the people who are holding this event (Basket Cases out of Olympia Fields) first came to our course during last winter's Polar Vortex.
"The state police came out and told them they had to get out of the park because they were closing down a bunch of roads and they were about to get stranded. That's how we met them. Typical disc golfers just like us."
Torrential rainfall, record snowfall, Polar Vortexes, disc golfers will wing it through anything.
"Except lightning," Brian Graham said. "We stop tournaments for lightning."
Graham is the Professional Disc Golf Association executive director. Traveling in from Georgia, Graham was present at Lemon Lake during that "ideal" disc golf day to formally tab the park's Flight Center Disc Golf Shop, owned and operated by Jay and his wife Debbie Svitko, as a PDGA Regional Development Center.
"There is an International Development Center (in Appling, Ga.), but this is the first regional one," Graham said. "It will be a place where we will hold programs, classes and training for tournament directors, course designers and other activities to help educate people interested in improving and promoting disc golf."
Graham has become familiar with the Flight Center and the Lemon Lake course, where the PDGA has twice hosted World Championships (2010 and 2013).
"This is among the better multi-course sites in the world," Graham said. "This year, the (Pro Worlds) are going to held in Pittsburgh, and then bids are going to held for 2016."
As for the next regional center, Graham said it will likely be in Finland.
"Disc golf is really popular in Finland," he said. "It's popular here, and getting more so everyday, but in Finland it's really taken off. They just like throwing things in Finland.
"Nokia even sponsors a cell phone-throwing contest there, and usually their Olympic-champion javelin throwers win it."
In addition to being a Regional Development Center, the shop also is the home of the Indiana State Disc Golf Museum.
"One of the most interesting items we have is the hand-written plans for the Red Course ... the first one put in here," said Deb Svitko, who helped come up with the idea for the museum, which encases several news clips of local disc golf-related events, including the death of local disc golf pioneer and rising amateur Matt Lovasko.
The Matt Lovasko "Homie" Memorial Tournament is held every fall at Lemon Lake.
"For this year's tourney (Oct. 17-18), some of the best disc golf players in the world will be here," Deb Svitko said.