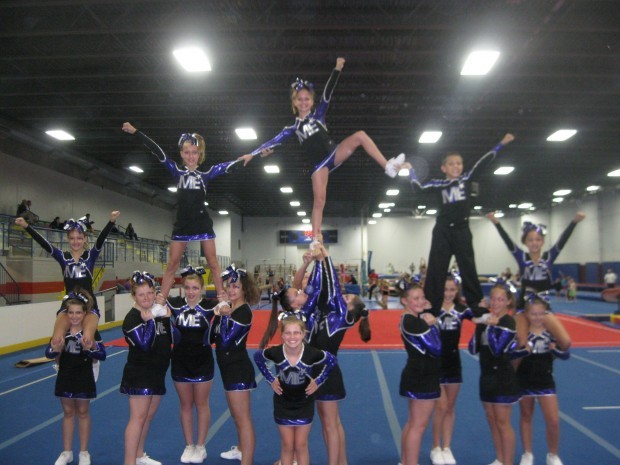 ST. JOHN | The Midwest Elite All-Star Cheerleading Team may have arrived 34 Super Bowls too late.
Donning purple, silver and black colors, it could have aptly provided bipartisan support for the Minnesota Vikings and the Oakland Raiders during the 11th championship game.
But Midwest Elite cheerleaders don't cheer for one team, let alone two. They cheer for themselves at competitions, which is what all-star cheerleading is all about.
"We have some girls who cheer for their high school teams, and some who are on their middle school's squads," Midwest Elite program manager Kyla Salapatas said. "For for this (Midwest Elite), we don't do any sideline work.
"Tumbling plays a much bigger part in competitive all-star cheerleading. Being able to do a back handspring is a requirement."
A former tumbler herself, Salapatas helped launch Midwest Elite in April of this year at Midwest Training and Ice Center in St. John. Assisting her are Midwest Elite coaches Alicia Moricz and world class trampoliner Hayley Butcher.
Midwest Elite participated in its first competition at the Champion Spirit Group Preseason Challenge held Oct. 2 at St. Xavier University in Chicago. The team did well enough to earn a bid to the Champion Spirit Group Nationals next spring.
Midwest Elite regularly trains about four to six hours a week working on its pyramids, jumps, dance moves and -- of course -- tumbling ... all set to music.
"We have our music custom made," Salapatas said. "It's a lot of different songs ... a lot of different beats mixed together."
At a competition, an all-star cheerleading routine generally lasts for two-and-a-half minutes.
"And you only get one chance to perform it," Salapatas said.
The levels of competition in all-star cheerleading go from 1 to 5, with 5 being the most advanced.
"We would like to eventually to have squads at every level," Salapatas said.
Currently, Midwest Elite has 17 members -- girls and boys -- ranging in age from 10 to 15.