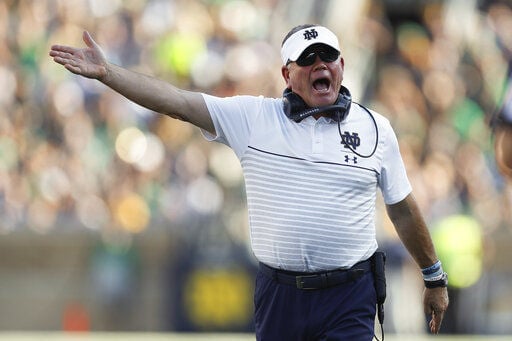 Ever since college football teams started returning to campus for organized preseason workouts earlier this month, there has been a steady stream of positive tests for COVID-19. Just last week, Notre Dame revealed that one its 90 players was afflicted despite being asymptomatic.
Elsewhere, the news has been worse. Clemson has had 37 positive tests but the Tigers have continued workouts for their healthies. Houston and Kansas State have been more cautious, temporarily shutting down their programs after the infection was detected in multiple players.
Still, something has been missing from these stories, hospitalizations. Apparently none of the players have been sick enough to require around-the-clock medical care. Furthermore, many have been asymptomatic, learning that they were ill only due to a laboratory report.
Apparently, their young age and superior physical condition have been of benefit.
"The majority of cases that we see," said Munster infectious disease specialist Dr. Dylan Slotar, "that end up in the hospital, that end up deteriorating while in the hospital, do have certain risk factors that most athletes wouldn't have, in other words hypertension, obesity, diabetes, and so I think as a general rule, that pattern holds."
Tragically, the pattern apparently did not hold for an Indiana University soccer star of the past.
When the news first broke a week ago regarding the passing of Ken Snow, 49, the cause of death was not revealed. But considering the environment in which we have existed over the last three months, I couldn't help but wonder.
By Tuesday, WLS-TV in Chicago had taken notice because Snow had first gained notoriety as a high school player at Hoffman Estates High School before leading IU to a National Championship in 1988.
In the news story the station aired, Channel 7's John Garcia reported that Snow had been a victim of COVID-19. "As a healthy former athlete," Garcia continued, "relatives say he was determined to beat it and never went to a hospital for treatment."
Members of Snow's family told Garcia they were baffled at the outcome, given the physical condition of the four-time All-American prior to his falling ill.
"One can have a rapid, precipitous decline with this illness even if one is healthy and without apparent risk factors," Slotar explained. "No one is immune and any particular person has to be vigilant."
That vigilance includes understanding when the tincture of time is no longer effective and a trip to the emergency room is necessary.
Regardless of co-morbidities or the lack of them, Slotar listed several symptoms that should set off alarm bells.
"If they have unrelenting fever; if they have progressive shortness of breath that is more rapid and makes them uncomfortable; and they are no longer able to perform activities they are used to performing," he warned, "these would be suggestions the disease has taken hold and is causing respiratory deterioration such that they would require medical attention."
Such medical attention has become refined to the point that outcomes are far better than they were when the pandemic started.
"If they are in the hospital and require oxygen, then we are offering them steroids in order to tone down the immune response," Slotar said. "Because what we're finding is, the immune system can go into overdrive and lead to a rapid respiratory deterioration."
The treatment protocol, according to Slotar, also often includes the anti-viral medication remdesivir, as well as convalescent plasma containing the immune cells of patents who have recovered from the infection.
As for a protocol to resume high school sports while the pandemic continues, Slotar is more optimistic about sports that are played outside and allow spacing among participants.
"I've been an advocate for reentry and reopening of society in general but with certain caveats," he said. "Some sports are easier to contemplate restarting without the need for as aggressive testing as professional athletes have the luxury of access to. So there is obviously going to be a spectrum. Cross country and golf are one extreme and wrestling would be the other extreme. I would be hesitant about contact sports like football or even basketball without testing. I don't how that can be addressed on the high school level."
John Doherty is a licensed physical therapist and athletic trainer. This column reflects solely his opinion. Reach him at jdoherty@comhs.org. Follow him on Twitter @JDohertyATCPT.
Gallery: The Times' best prep sports photos of the 2019-20 school year
Our favorite photos from a photogenic fall prep sports season in the Region.
The coronavirus pandemic brought about the end for the remaining boys basketball postseason games. With the winter prep sports season effectiv…
John Doherty is a licensed physical therapist and athletic trainer. This column reflects solely his opinion. Reach him at jdoherty@comhs.org. Follow him on Twitter @JDohertyATCPT.
Concerned about COVID-19?
Sign up now to get the most recent coronavirus headlines and other important local and national news sent to your email inbox daily.