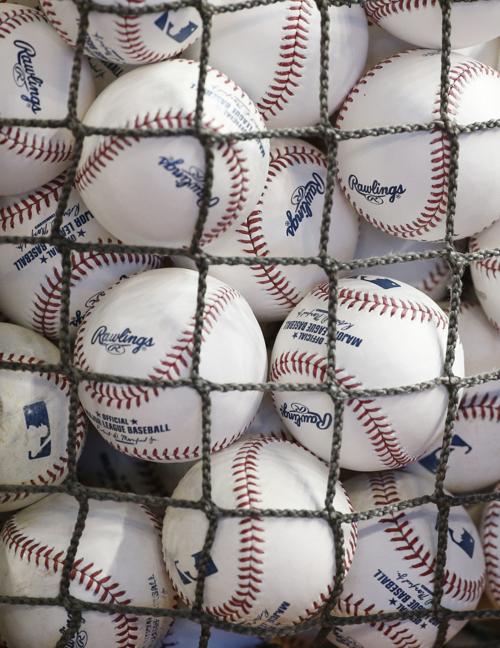 Prep football
Griddy's Awards honors local standouts: Three local football standouts were recognized at the 13th annual Griddy's Awards on Sunday at the Colts Community Pavilion in Indianapolis. The event recognizes some of the top players, coaches and teams in the state.
Valparaiso senior linebacker Tyler Bukur and Michigan City senior linebacker Chase Triplett were named to the Big School All-State team which pulls from 6A, 5A and 4A programs. Whiting senior Nino Barbosa earned a spot on the Small School All-State team which comes from 3A, 2A and 1A teams.
Barbosa graduated as one of the most dynamic players in the area having hauled in 10 interceptions to go along with three punt returns and three kickoff returns for touchdowns.
Bukur picked up 77 tackles, 10.5 for loss, and one touchdown while leading Valparaiso to a semistate appearance. The Vikings named him their team's Most Valuable Linebacker.
Triplett heads to play for Purdue after collecting 125 tackles, 19 of which were for loss in his final season with Michigan City. 
College baseball
Valpo game postponed: Due to inclement weather, Tuesday's Valparaiso/Chicago State game was postponed.
The game has been moved to 3 p.m. May 14 at Emory G. Bauer Field.
College lacrosse
Former Marion Catholic athlete earns conference honor: Marian Catholic graduate Carla Bennett was named second team all-College Conference of Illinois & Wisconsin after a standout senior season for Augustana (Illinois) lacrosse.
The midfielder from South Holland shared the team's lead in assists and also led the program with 80 draw controls and 22 caused turnovers. She finished second in ground balls (49), third in points (46) and fourth in goals (29) in her final season.
Bennett's second team nod is her second in as many seasons. She ranks second all-time on the Augustana career list in draw controls (254) and free-position goals (34). She's also fourth in all-time ground balls (141), sixth in caused turnovers (65) and ninth in assists (42).
College hockey
Pride add two: The Purdue Northwest club hockey team, which will begin play in the fall, has added local players Cole Bocock and Brandon Prodoehl, coach Kevin Cole announced in a statement Tuesday.
Bocock, who is from Griffith, played for Cole on Trine University's American Collegiate Hockey Association Division III team this past season. He scored four goals and tallied 15 assists in 25 regular-season games as a freshman.
Prodoehl led the Munster High School hockey team in goals (46) and assists (30) as a senior during the 2018-18 season.
Purdue Northwest will be an ACHA Division II affiliate member in the fall.
College football
Hoosiers to begin beer, wine sales at home football games: Indiana University will sell beer and wine at home football games starting this fall.
School officials said Tuesday it will be part of a pilot program recommended by a consulting firm. A third-party vendor will be chosen and will limit purchasers to a two-drink maximum per transaction. All sales will end at the end of the third quarter.
Athletic director Fred Glass said the hope is to reduce alcohol-related incidents inside and around Memorial Stadium. Ten percent of proceeds will be used on the university's alcohol safety programming.
More than four dozen schools — including five in the Big Ten — already sell alcohol at football games.
Indiana pro sports
Indiana governor signs stadium, Pacers arena subsidy plan: The dedication of nearly $400 million in public subsidies toward two Indianapolis sports stadium projects has been signed into law.
Indiana Gov. Eric Holcomb's office says he signed the bill Monday setting up financing plans for renovation of the Indiana Pacers' arena and construction of a new soccer stadium.
The Pacers agreed to stay in Indianapolis for 25 more years as part of a deal directing $270 million to the Bankers Life Fieldhouse project from the state and local income and sales taxes generated by several nearby hotels — diverting that money from the state, city and local schools.
The plan sets up a similar tax subsidy district toward 80% of the Indy Eleven soccer team's proposed $150 million stadium.
Holcomb says the projects will boost the Indianapolis area.
Pro football
Colts add Spencer Ware to running back stable: The Indianapolis Colts have signed veteran running back Spencer Ware.
He's the third veteran free agent Indy has signed this offseason. At 5-foot-10 and 229 pounds, Ware gives the Colts' backfield a bigger back than the others currently on the roster.
Seattle drafted Ware in the sixth round in 2013 draft out of LSU. He played one season in Seattle before leaving in 2015 for Kansas City, where he spent the last three seasons.
Ware has 340 carries, 1,580 yards rushing and 11 scoring runs in his career. He also has 59 receptions for 676 yards and two scores.
Indy waived safety Isaiah Johnson, defensive tackle DeShawn Williams and receiver James Wright.
Gymnastics
Suit against USA Gymnastics seeks help for abused gymnasts: A new lawsuit seeks to protect potentially thousands of abused gymnasts who might not have known about a deadline for filing claims against USA Gymnastics in the embattled group's ongoing bankruptcy.
A federal lawsuit filed Monday in Indianapolis alleges the group knows or should know the identities of many abuse survivors who had not filed claims by Monday's deadline in the bankruptcy case. The suit alleges that includes dozens identified in secret files the Indianapolis-based group kept on coaches accused of abusing athletes and other misconduct.
The complaint states that it was filed "to protect the claims of the hundreds, if not thousands more, discernible child and adult victims of the at least 50 coaches, officials, employees/agents, and volunteers of USA Gymnastics who were sexually violated by someone other than Larry Nassar" while involved in USA Gymnastics facilities or events.
Nassar was sentenced to decades to prison for molesting girls and young women.
USA Gymnastics hasn't responded to a message seeking comment Tuesday.
USA Gymnastics' director of sports medicine lasts just 1 day: Edward Nyman's appointment as the first full-time director of sports medicine and science at USA Gymnastics lasted just one day.
The embattled organization announced it had removed Nyman on Tuesday, barely 24 hours after naming him to the position. USA Gymnastics cited an unspecified conflict of interest as its reason for re-opening the job.
Nyman came to USA Gymnastics with a lengthy history in the sport. He was a competitive gymnast from 1987-93 and spent time as a coach before getting a doctorate in biomechanics at the University of Toledo.
The director of sports medicine and science at USA Gymnastics will oversee and managing the team's medical staff, from physicians to athletic trainers and physical therapists. The director will not directly treat male or female athletes.
Nyman's appointment seemed to catch some in the gymnastics' community off guard. Olympic champion Simone Biles tweeted "I'm sorry .... what" after Nyman's hiring was announced.
Pro baseball
Orioles, White Sox rained out; doubleheader Wednesday: The game between the Baltimore Orioles and Chicago White Sox on Tuesday night was postponed because of rain several hours before it was scheduled to begin.
They will play a traditional doubleheader Wednesday starting at 3:10 p.m. local time.
The White Sox have won four in a row. Last-place Baltimore has lost four straight.
Chicago's Carlos Rodón and Baltimore's David Hess are scheduled to start Game 1, with Ivan Nova and Andrew Cashner going in Game 2 after having their turns pushed back a day.
The Orioles added right-hander Shawn Armstrong to their 25-man roster. He replaced left-hander Tanner Scott, who was optioned to Triple-A Norfolk on Monday night.
Armstrong was claimed off waivers from the Seattle Mariners on Sunday. He had a 0-1 record and 14.73 ERA in four relief appearances.