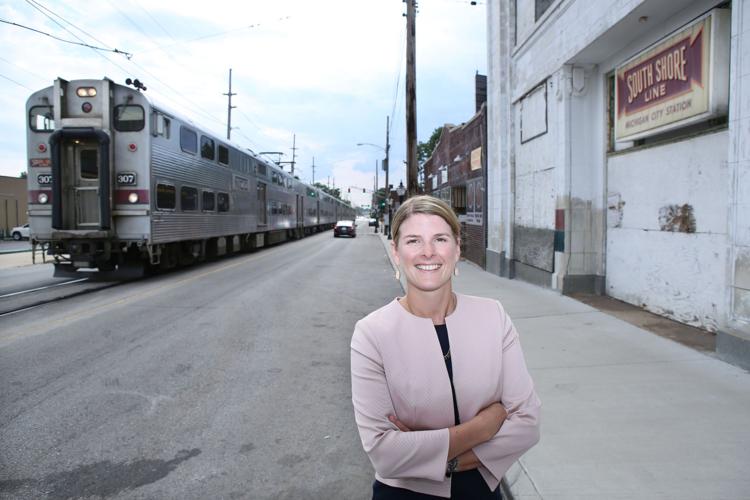 When someone asks Leah Konrady to tackle a massive project, she doesn't have to be asked twice.
The Michigan City native jumps in feet first, ready for a challenge. 
That's according to Michael Noland, president and general manager of the South Shore Line, who, along with Konrady, has worked to build support for two of the Region's biggest projects in years — the West Lake extension from Hammond to Dyer and the double-track modernization project from Gary to Michigan City.
"Her leadership has been incredibly important in advancing these projects," Noland said. "She's a leader in the community who can present a voice that humanizes what the impacts of the project will be to the commuters and the Region as a whole."
Konrady has spent the last 15 months fitting nicely into her new role as president and CEO of One Region, a nonprofit civic organization with a mission of promoting projects and policies that attract and retain talent and increase household income in Lake, LaPorte and Porter counties.
One Region is a merged organization, borne out of the Northwest Indiana Quality of Life Council and the "One Region, One Vision" initiative started by The Times Media Co.
Expanding the South Shore Line is critical to improving quality of life and economic development in Northwest Indiana, and persuading millennials to plant roots here to live, work and play, Konrady said. 
She's the perfect example of the type of millennial she hopes to retain and/or attract to Northwest Indiana: Konrady graduated from Marquette Catholic High School in Michigan City before she left to attend the University of Denver, where she obtained a bachelor's degree in geography and a master's degrees of business administration.
Her career took her across the country. Before joining One Region, she worked for CH2M in Fresno, California, with a focus in governmental affairs and community outreach for water infrastructure. While living in Washington, D.C., she worked as a legislative assistant for U.S. Rep. Pete Visclosky's office and also at the Northeast-Midwest Institute. There, she was director of the Great Lakes Washington Program.
In the end, however, she was homesick for the Region. 
"I felt homesick," Konrady said. "I love Lake Michigan in the summer. We have great hiking trails. Our outdoor rec is often overlooked, from Chicago to southwest Michigan. The breweries, the wineries, all overlooked."
Keep reading for FREE!
Enjoy more articles by signing up or logging in. No credit card required.
Konrady's One Region was a key player in organizing a series of public meetings earlier this year to help promote and secure funding for the South Shore project, she said. 
Public input is critical for such a massive project, she said. 
"Millennials and homeowners, they're looking for easy transit into Chicago. We need to strengthen ours," she said. 
Northwest Indiana is not without its challenges, but the area should leverage its proximity to Chicago, she said. The One Region organization's chief initiative recently has been to secure funding for the South Shore West Lake rail extension.
"We should be marketing our Region as 'The best way to live in Chicago just so happens to be in Indiana,' " Konrady said.
Northwest Indiana Regional Development Authority CEO Bill Hanna said Konrady is playing a key role in helping people understand the benefits of the South Shore extension project.
Hanna said Konrady "absolutely" deserves a spot on this year's "20 under 40" list. 
"I think this list is not just celebrating successes. It's celebrating who people are, and the people we want to see further invested in. It represents values we want to replicate," Hanna said. "These individuals tend to have all these things in common. When you say their name, you identify with movements outside of themselves, movements larger than themselves. It's an important quality to have."
Konrady said she also helps out with the Michigan City-based Lakefront Career Network, a group committed to engaging career-minded young professionals in the area. Each year, the group also raises funds for various nonprofits in the area. 
The Times Media Co. Publisher Chris White, who is on the One Region's board of directors, called Konrady an "absolute star."
"She has an inclusive vision. She's always working, always focusing, always looking at ways to make her ideas better," White said. "She's excited to get more of her peers engaged."