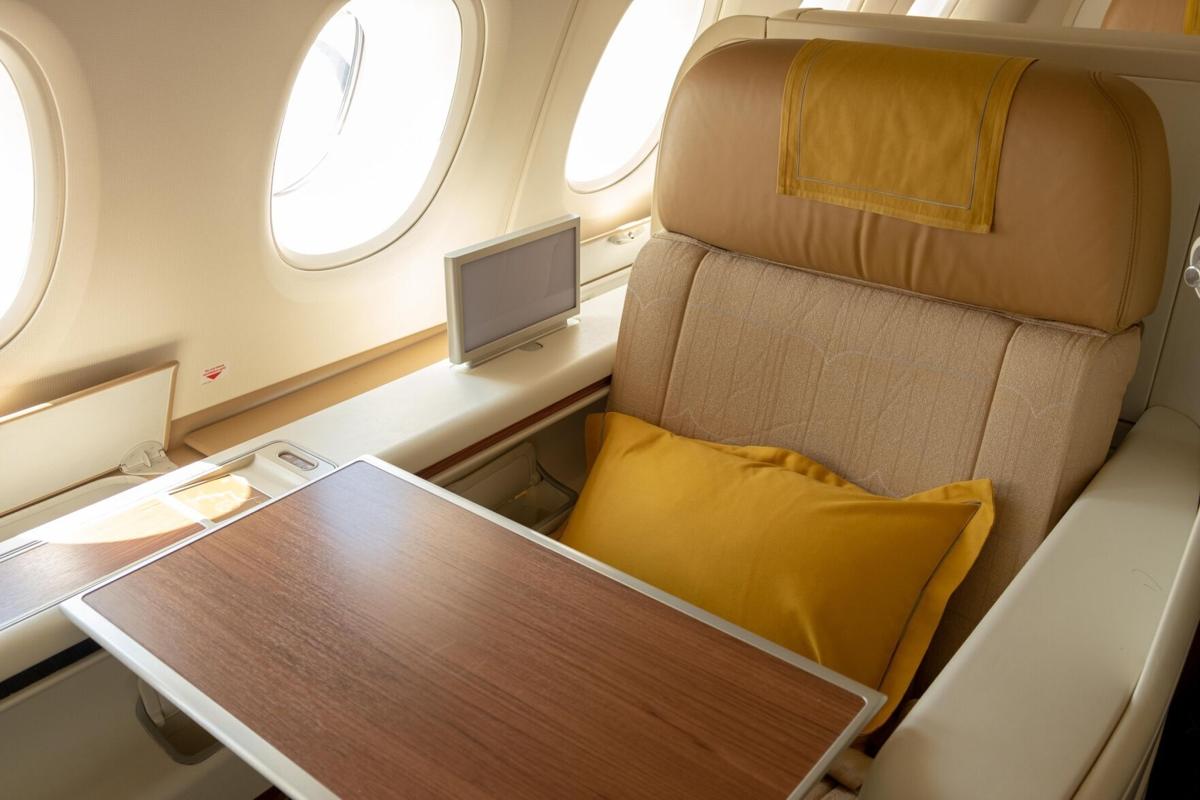 Holiday travel this year is likely to be a stressful experience, with lots of folks trying to get somewhere, understaffed TSA and airlines, and a bunch of annoying COVID-19 requirements. One way to de-stress a flight is to move up from coach/main cabin/economy to a better class. A long time ago, I wrote that moving from the main cabin to business or first class is like moving from a slum to a penthouse, and that's still the case. These days, the main cabin you're most likely to find features six-across seats with near-zero legroom on a plane in either the 737 or A320 family. And face it: There's nothing — repeat nothing — an airline can do to provide a comfortable flight in those conditions. You don't enjoy such a flight; you endure it. You can escape an otherwise unpleasant trip by moving to a better product, but you'll have to pay.
On all but the longest flights, a jet's capacity is limited by space, not weight, so the more seat room you get, the more you pay. That's why premium products will always command a premium price — a price that is often too high for most travelers, but not always. You have five possible options.
Stretch economy. Many big airlines offer a "stretched economy" option that gives you a few inches of extra legroom in what are otherwise ordinary ultra-narrow economy seats. Typical price add-ons are around $100 on a transcon trip, less on a short haul, more on an intercontinental trip. Elite level flyers often get this upgrade free. On some lines, all you get is the extra room, but others provide upgraded cabin service as well. Some lines call it "premium," but it really isn't.
Premium economy. Most big airlines now offer true premium economy on their long-haul wide-body flights. Even the low-cost international lines typically offer some sort of premium service. Seat width and legroom are typically a bit better than U.S. domestic first class, and most lines offer the usual mix of upgraded cabin service, dedicated check-in lanes at big airports, free checked bags, and such. But this product is limited to wide-body planes; domestically, you see it only on a few wide-body transcon and Hawaii runs and never on 737s and A320s. Prices generally range around double economy fares, and double the fare for 40 percent more room isn't a great value proposition for many travelers.
Domestic first class. These days, you get a bigger seat, meals, drinks, checked bags, and such, but it's not "luxury" any more. At the usual price of two to five times the cost of a main cabin seat, it's a non-starter for many travelers, but some lines — notably Delta and JetBlue — occasionally price some first-class itineraries at a much lower cost. It's worth a look.
Discounted international business class. On a long-haul intercontinental flight, business class is nirvana. You get the flat beds, endless beverages, and the rest. Big airlines often run flash sales on business class tickets from North America to Asia or Europe. While list prices from Chicago to London, for example, usually start at more than $5,000 round trip, you often see prices as low as $2,000 or even less on sale. If you don't want to spend a lot of time tracking airfares, several outfits, including firstclassflyer.com and mightytravels.com, monitor premium deals and alert you to flash sales — for a stiff annual fee. Also, some lines auction upgrades prior to departure.
Low-fare business class. La Compagnie is the only low-fare all-business-class airline now flying; it operates between Newark and Paris/De Gaulle. Posted round-trip fares currently start at $2,200, but the line occasionally runs flash sales.
Frequent flyer miles. Overall, flight awards in business or first class are by far the best-value ways to use frequent flyer miles. But that works only if you have the miles — and the itineraries available are often less than optimum.
The days of "dress nice, get an upgrade" are long gone. If you don't pay — maybe a lot — you stay in the cattle car. Only you can decide if the expense is worthwhile.