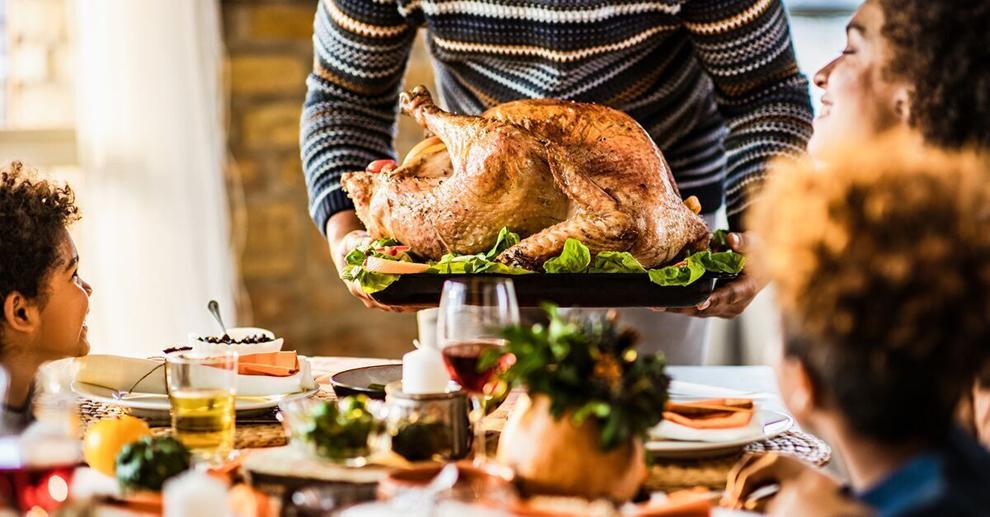 There are few things as American as a traditional Thanksgiving dinner. Between catching up with family and friends, watching the college football matchups and planning your Black Friday shopping, it's easy to get distracted while you enjoy your Thanksgiving meal. However, these common distractions can lead to an accidental choking incident, which is ranked the fourth leading cause of unintentional injury death in the United States.
To keep you and your family safe this Thanksgiving season, the team at Midwest Express Clinic wants to share some helpful prevention tips and rescue procedures in the event of a choking incident. 
Choking prevention tips
Savor your food by chewing thoroughly and slowly. There's no reward for finishing your food before everyone else.

Avoid talking and laughing while eating — save the sports talk and political debates for post-meal discussion.

For young children, it's recommended to cut their food into small pieces and supervise them during the meal to reduce their risk of accidental choking. Round-shaped food items such as carrots, grapes and hot dogs should be sliced into quarters or smaller pieces for children to eat.

Limit alcohol consumption until after you are finished eating, as alcohol relaxes the gag reflex and thus increases the risk of choking.
Choking emergency response
If a family member or friend shows signs of choking, such as the inability to breathe, speak or cough, take immediate action by calling 911 and using the "Five and Five" method until the victim is no longer choking or until help arrives.
Step 1: Five back blows. Stand to the side and behind the choking adult — or kneel behind the victim if they are a young child — and place your arm across the victim's chest to support their body. Bend the victim at the waist so they are facing the ground and strike the victim five times with the heel of your hand between the shoulder blades.
Step 2: Five abdominal thrusts. If the five back blows do not dislodge the object obstructing the victim's airway, then give five abdominal thrusts using the Heimlich maneuver. To do this, put a closed fist above the victim's belly button, grasp the closed fist with your other hand, and press into the stomach with a quick, upward thrust. For children, use less pressure when thrusting to avoid damaging internal organs.
Alternate between Step 1 and 2 until the object is dislodged from the victim's airway. If the victim falls unconscious, perform CPR chest compressions until help arrives using the following steps.
Step 1: Tilt the victim's head and lift their chin to open the airway.
Step 2: Give two rescue breaths (breathing into the mouth of the victim) and check for vital signs.
Step 3: If no vital signs are found, perform 30 chest compressions above the breastbone and at the nipple line approximately 2 inches deep at a rate of 100 beats per minute — hum the Bee Gees' disco tune "Stayin' Alive" to help stay on beat with chest compressions.
For young children and infants, follow the same steps while modifying the compression method: Use only two fingers and go no more than 1 ½ inches deep when performing chest compressions to prevent internal organ damage.
Between rounds of compressions, look into the victim's mouth to see if the item has been dislodged or if they begin breathing normally again. Repeat the above steps until help arrives or the victim is no longer choking.
Visit the National Safety Council website for more information on rescue procedures and check out our latest blog that breaks down everything you need to know about the Heimlich maneuver. 
Midwest Express Clinic and Brand Ave. Studios disclaim any warranty or liability for your use of this information. This content is provided for informational purposes only by the advertiser and is not a substitute for professional medical advice or treatment. Please consult your healthcare provider for medical advice. Any views, thoughts or opinions in this paid post belong solely to the advertiser and do not represent the views of Brand Ave. Studios or its parent company.
---
This content was produced by Brand Ave. Studios. The news and editorial departments had no role in its creation or display. Brand Ave. Studios connects advertisers with a targeted audience through compelling content programs, from concept to production and distribution. For more information contact sales@brandavestudios.com.